Gigi Hadid Uses Twitter to Respond to Body-Shamers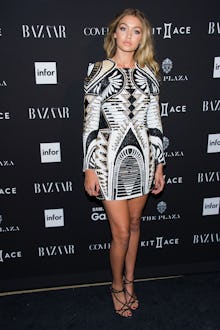 Gigi Hadid has quite a bit going for her: Not only is she a widely accepted talent in the fashion industry, but she's confident in her look and isn't afraid to admit it. 
The social media superstar took to Twitter on Monday morning to address body-shamers who have been leaving nasty comments on the model's pages throughout September — a month where fashion and culture collide in several events, including both New York Fashion Week and Paris Fashion Week.
Hadid, who is appearing in both events this year, took those Internet trolls to task in a post Monday morning revealing how the negative comments affect her.
"So many people are so quick to comment negative opinions this month," Hadid writes. "Yes, the judgment on social media [comes] from people who, 99% of the time, have no idea what they're talking about, but I'm human, and I'm not going to lie, I did let the negativity get to me a little."
The 20-year-old American supermodel, who just wrapped up a Versace runway show in Milan, also addressed her critics who say she's only successful because of her family's status. Her wealthy mother, Yolanda Foster, has been on The Real Housewives of Beverly Hills since 2012, and Hadid has been a frequent guest star.
"No, I'm not the first or the last model of my type in this industry," Hadid writes on Twitter. "You can make up all the reasons you think I am where I am, but really, I'm a hard worker that's confident in myself, one that came at a time where the fashion industry was ready for a change. I'm just doing my job. I represent a body image that wasn't accepted in high fashion before."
Hadid took on anyone who has something hateful to say about her image, writing, "Yes, I have boobs, I have abs, I have a butt, I have thighs, but I'm not asking for special treatment ... Your mean comments don't make me want to change my body, they don't make me want to say not to the designers that ask me to be in their shows and they definitely don't change the designers opinions of me."
While she doesn't seem fazed by her naysayers any longer, signing off "Happy PFW [Paris Fashion Week] xx, G," Hadid's career hasn't seemed to take a hit whatsoever. She is considered one of People magazine's "most beautiful people" and was recently awarded model of the year at 2015's Fashion Los Angeles Awards.