August Alsina Groped a Woman on Stage and People on Twitter Are Blaming Her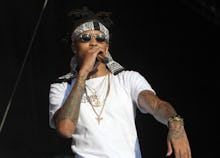 On Friday, after New Orleans native R&B artist August Alsina invited a female fan on stage at the Freebandz Music Fest in Baton Rouge, things took a turn when Alsina proceeded to grope the female concert-goer's breasts, seemingly without her consent. In the video, the female fan can be seen gently batting away Alsina's advances as he continues singing to the crowd.
Though some, including the noticeably uncomfortable fan in question, seem to have viewed the act as an unwanted sexual advance, others on Twitter took Alsina's side and found a reason to blame her, not him.
However, others did call the groping out for what it is: sexual assault. 
Here's the clip published to YouTube on Monday:
This isn't the first, nor second, time Alsina felt up a woman on stage. The following video, uploaded to YouTube in December 2013, shows him groping another fan on stage at the Bayou Classic Fan Festival.
In another video Alsina himself uploaded to YouTube in February, the singer brags about his "seduction skills" while groping another female fan he brought up on stage before dropping to his knees and kissing her exposed midriff as she pulls away.
In 2014, a woman wanted to sue Alsina for "ripping her cervix" during sex, reports HipHopWired. She claimed Alsina offered her free tickets to his after seeing bikini pictures of her on Instagram. Alsina didn't deny anything in an interview with 106KMEL, saying "it is what it is."