Vin Diesel Promises Three More 'Fast and Furious' Movies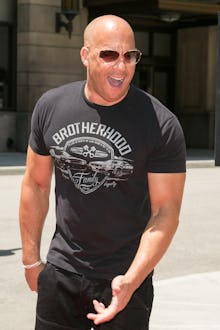 Vin Diesel is not done being fast or furious — but will anyone join him on the road?
In a Facebook post last week, the star and producer of the Fast and Furious franchise defended the action franchise from reports that major problems behind the scenes are hampering development of the yet-untitled eighth film. Among the allegations: Previous series directors James Wan and Justin Lin both turned down the chance to direct new movie. Diesel took to the social media platform to provide his account.
"My producing partner Neal would love for me to just sign off on a director, but this is too special a franchise, so these matters have to be very carefully handled," he wrote. "To be clear, no one has been offered to helm Fast 8 yet, let alone seen a script."
That didn't stop Diesel from doubling down on the franchise, however. "I promised the studio I would deliver one last trilogy to end the saga," he said. So according to Diesel, not only is there an eighth film coming, there's a ninth and tenth as well.
Further Furious films are hardly a surprise. Furious 7 made $1.5 billion worldwide. The franchise as a whole has made more money with every passing film since the fourth. Though the most recent film carried the tagline "One Last Ride," to pass up on other sequels would be throwing away money. Those films can only happen with a director, though.
Wan, who directed Furious 7, reportedly had health problems on the set. Lin, who directed the third through sixth films in the franchise, chose to direct The Conjuring 2: The Enfield Poltergeist instead of an eighth Furious installment. Though Diesel insists no one was offered the film at all, that ultimately leaves the actor and his team in the same place: looking for another director.
In his post, Diesel wisely did not respond to claims that he was difficult on the set of Furious 7. Instead, he focuses on the same ideas of family that sold that film to the public after star Paul Walker's untimely passing. 
"Universal has been so good to me and so trusting of the vision. They have been like family," he said. Diesel then promised he would announce directors — plural, notably not singular — in his next Facebook post.