Here's Why We Need to Talk More About Stillbirths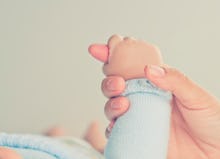 Earlier this year, Mark Zuckerberg announced that he and his wife, Priscilla Chan, struggled with multiple miscarriages before getting pregnant. This revelation prompted many women and their partners to open up about the pain of losing a child early on in a pregnancy. But it also inspired many to open up about the trauma of losing a child later in a pregnancy. 
According to the Centers for Disease Control, stillbirth is defined as the loss of a pregnancy after approximately 20 or more weeks gestation. There are more than 7,200 stillbirths per day worldwide, 98% of which are in low-income or developing countries. Even though stillbirths are fairly common, they get relatively short shrift in terms of global health priorities. 
According to a recent report in the BMJ, stillbirths are not regularly reported to the World Health Organization largely because many women in low-income countries give birth without a medical professional present. Nor are stillbirths included in the international mortality tallies that global organizations such as the United Nations rely on to develop long-term global health strategies.
The report concludes that with no global health intervention, the rate of stillbirths worldwide will likely remain consistent over the next 20 years, resulting in 52 million stillbirths by 2035. But that doesn't have to be the case. To know how to prevent stillbirths, we need to first start talking openly about them — and listening to the women who have experienced them firsthand. 
Destigmatizing pregnancy loss: Losing a pregnancy is incredibly common: According to one estimate, nearly 10 to 25% of pregnancies end in miscarriage. Stillbirth in particular happens more frequently than we might expect: The CDC estimates stillbirth occurs in approximately 1% of U.S. pregnancies, or roughly 24,000 pregnancies per year. 
Yet we rarely speak openly about the women affected by miscarriage, who frequently suffer in silence without support. Often, mourners find that the people closest to them simply don't know how to respond — and neither do they. 
In the absence of emotional support from family and friends, many women have taken to making their losses public, posting photos of their stillborn children on social media and arranging support groups to help each other cope. Organizations such as Hope After Loss provide support for those who have lost pregnancies or children at all stages of development, and the group Now I Lay Me Down To Sleep (photo above) helps connect people with photographers who will photograph their stillbirths.
The report: According to the BMJ report, as of 2009 the international rate of stillbirths has hovered around 18.9 per 1,000 births, which comes out to more than 2.6 million stillbirths. But late- or full-term pregnancy loss is left out of global sustainability goals from the UN, which sets targets to improve global health over the next 15 years. The goals do consider newborn and child mortality rates, but they don't count stillbirths. By excluding those losses, it's all the more difficult to track them or come up with ways to prevent them. 
"There's a huge lag between the toll of stillbirth and people's awareness of it. It's invisible in global statistics," Zeshan Qureshi, lead author of the report and a clinical fellow at the Institute for Global Health at University College London, told Mic. "There's no way to measure the success of an intervention that would reduce stillbirths when there's no way of quantifying them in the first place."
To raise awareness of stillbirths, Qureshi says they should be measured on a global scale alongside newborn deaths, which he believes will force governments and other civil society organizations to recognize how common late-term pregnancy loss is. That could also push them to invest in prevention methods during prenatal care, which could have more benefits for overall maternal health. 
"What potentially kills a baby could potentially kill the mother," Qureshi said. "If you start counting stillbirths, all of the sudden the arguments for investing in maternal services becomes so much stronger, because you have a whole new cohort of issues you are trying to prevent." 
Although many parents who have lost pregnancies have begun to speak out about their experiences, Qureshi said there's still more work to be done to help those affected grapple with the trauma.
"What is lacking is support services for people who have experienced stillbirth," Qureshi said. "Some of the data we've looked at show that the anxiety and depression that follow [a lost pregnancy] can last for a lifetime. Acknowledging [stillbirth] as an issue that counts, and one we invest in, means there will be more political impetus to support people who are suffering." 
And with support, he added, comes empowerment. 
"When stillbirth does come onto the public stage, it empowers so many people across the country and the world to speak about their experiences," Qureshi said. "That allows women to be advocates for themselves." 
Correction: Sept. 30, 2015