Chipotle's Carnitas Shortage Ending as Pork Returns to 90% of Stores This Week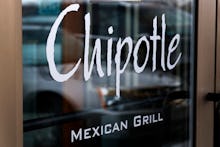 Thanks to a new pork supplier, Chipotle is bringing back its popular carnitas to restaurants around the country this week. Carnitas will be restored at 90% of Chipotle restaurants, the company announced on Monday. The Mexican food chain expects to achieve a 100% carnitas comeback by the end of November. 
"The decision to stop selling carnitas in many of our restaurants was an easy one," Chipotle founder and co-CEO Steve Ells said in a press release. "We simply will not compromise our high standards for animal welfare ... [We] want to thank our customers for their patience while we worked to address this issue."
The great "carnitas crisis" coming to an end. Earlier this year, Chipotle's carnitas option vanished from more than a third of the chain's restaurants after routine auditing uncovered inconsistencies between the restauranteur's standards and its pork suppliers. Chipotle, which promises its customers "food with integrity," requires its suppliers to give pigs access to the outdoors or deeply-bedded barns, as opposed to metal-bottomed pens, and to refrain from using antibiotics or gestation crates.
The "carnitas crisis," as it's been called, was a major learning experience for Chipotle. Writing for the Washington Post, journalist Roberto Ferdman points out that maintaining its ethical pledge comes at a price. The decision to pull the plug on carnitas undoubtedly cost the company "a lot of money," Ferdman writes. "And it's exactly the sort of decision Chipotle might not be able to keep making — not if if it wants to serve more burritos to more people, and still include pork as an ingredient." 
Chipotle explained its decision via a webpage dedicated to its carnitas crisis: 
"There are very few farmers who raise animals in a way that meets our requirements — this is especially true when it comes to pigs. In the United States, around 95% of pigs are raised 'conventionally.' Raising pigs in this conventional system can be particularly brutal for the animals."
Carnitas fans take note. Enthusiasts went wild on Twitter on Monday after news of the comeback broke. Chipotle has replenished its supply of carnitas to the people, and lo, it is good.