With 'The Intern,' Nancy Meyers Proves She's the Queen of Interior Design Porn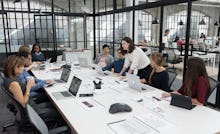 Before you see her name flash in the trailer or on the silver screen, you can probably tell whether or not Nancy Meyers directed a film just by looking at the interior design.
Ivory couches dotted with cream pillows, spotless kitchens with small notes of silver, ever-fresh flowers as windows let in gentle rays of honey-hued light. The furniture is chic and simple, with just the right amount of chrome. Let's face it: Girlfriend loves a good white room. 
The design of Nancy Meyers' latest film, The Intern, starring Anne Hathaway and Robert De Niro, is no different. With this film, Meyers and production designer Kristi Zea reinvent just how stylish an office can be. But most importantly, The Intern continues to establish Nancy Meyers as the de facto queen of interior design porn.
Recently, luxury furniture retailer One Kings Lane took the Nancy Meyers design obsession one step further. The company partnered with Meyers to make select furniture and decor from The Intern available for purchase, such as this minimalist lamp (left) for $399, or this cream couch for a little more than $2,000. 
From The Parent Trap's rustic kitchen to the all-white living room in It's Complicated, fans have been breathlessly praising Meyers' lavish sets for years:
So, it's no surprise that more than five years later, before The Intern even hit theaters, members of the Cult of Nancy Meyers were on high alert, wondering what drool-worthy interiors the design master would come up with next. Entire Pinterest boards were made with more than 700 followers on the lookout. On the day of The Intern's premiere, Jezebel published a quiz titled "Which Nancy Meyers Kitchen Are You?" (Unrelated: I got Diane Keaton's pre-renovation country kitchen from Baby Boom and I am enraged.)
However, the roots of the Cult of Nancy Meyers go all the way back to 1998, following the release of The Parent Trap. Apparently, it not only launched the career of Lindsay Lohan, but also caught the eye of the interior design-obsessed, who took one look at Dennis Quaid's country kitchen (courtesy of production designer Dean Tavoularis) and were hooked. 
Then, of course, there's the 2003 film Something's Gotta Give, which could be considered peak Nancy Meyers interior. 
In a Hamptons beach house, Diane Keaton surrounds herself with the colors of the shore — light blue, white, light beige. The production, designed by Jon Hutman, speaks to the world of an accomplished woman who takes a great deal of pride in her surroundings. 
There was also that kitchen, which was all-white (to match Keaton's character's signature turtlenecks) and straight out of a Pottery Barn catalog.
To round out this trifecta of spotless interiors, there is the set design of 2009's It's Complicated, which features Meryl Streep fooling around with ex Alec Baldwin in an uber-lush country home designed by Something's Gotta Give's production designer Jon Hutman. (He's responsible for the sets in Meyers' The Holiday as well.) The dining room is the stuff that dreams are made of: 
It's impossible to pinpoint the moment when Meyers fans started to take note of just how beautiful the decor in her films were but the gradual appreciation has indeed launched a movement and a widespread appreciation. 
Making the office sexy: With The Intern, Meyers is back in top form. As of Monday afternoon, The Intern has a total domestic gross of $18,225,000. While the film's success probably can't be entirely attributed to its sets, the muted palette and sleek interiors on display are clearly intended to appeal to Meyers' design cult members. 
Meyers herself has commented on her vision for The Intern's interiors in an interview with One Kings Lane saying, "We wanted it to be the home of a young family with the kinds of furniture and belongings young families might have: some mid-century pieces, black-and-white photography, Moroccan rugs."
Just look at those fresh flowers in the photo below. And oh yeah, that metal detailing. You see that mood lighting going on? Those rich honey tones? Awww, yeah. And we all know Meyers loves a good wood table.