The Strokes New Album 2015: Everything We Know About the Band's Next Studio Album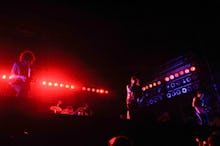 On stage Sunday night at the Landmark Music Festival in Washington, D.C., iconic New York rock outfit the Strokes let it slip they're recording, Spin magazine reports. Backlit by the supermoon, the Strokes frontman Julian Casablancas told concert attendees, "We'll be back soon and we'll be back in the studio and shit, yeah. Fuck yeah, man."
A new album from the Strokes would be the group's fifth studio record, and a follow-up to 2013's Comedown Machine. Details about track names and a working album title have yet to surface. 
Watch the moment Casablancas let the crowd know about the album here (fast forward to 1:00:40): 
News of a forthcoming album came as a shock to Strokes fans, who in June weathered a blow when guitarist Albert Hammond Jr. denied the possibility of future concerts or new material. When asked by BBC 6 Music if the band was working on new songs, Hammond responded with a hard "no."
"I don't even know if we're going to play any more shows," Hammond told BBC 6 Music, per Gigwise. "People think I'm lying but I'm just tired of trying to make some positive spin, but I've got no idea. So I take each one like it's my last and I hold and I cherish it."
Either Hammond spoke too soon, or he's adept at keeping his cards close to his chest. 
Amanda de Cadenet, wife of the Strokes guitarist Nick Valensi, took to Twitter on Sunday with a supposed confirmation, saying her husband had "let the cat outta the bag." 
In the meantime, fans can catch the band Oct. 4 at Austin City Limits music festival, where perhaps Casablancas will divulge further details. In the meantime, diehard Strokes fans can checkout Hammond's side project, Momentary Masters, a solo record that surfaced in July. More on that and streaming details via Pitchfork.