7 Companies to Shop From if You Want Your Purchases to Have a Positive Impact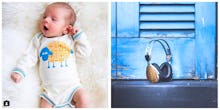 The horrors of sweatshops are well known, but many businesses still employ them. Major companies like Kohl's, Macy's and Lands' End only stopped outsourcing to a notoriously bad Jordanian factory after news spread of a woman, forced to work there, who hung herself. She and many others were routinely raped and beaten by managers, an Institute for Global Labor and Human Rights report found in 2011.
Yet there are some companies which invest considerable resources into ensuring they don't violate human rights or damage the earth.  
As ethical consumerism becomes more popular (and gift-buying season swiftly approaches), it can be helpful to know which companies espouse a socially responsible ethos. Here are some of those businesses — from household names to startups — that prioritize or are founded on principles of equality and sustainability.
1. Baby Hero supports new mothers and babies in Pakistan and Kenya.
Baby Hero sells baby paraphernalia and every purchase funds Neonatal Survival Kits, sent to mothers in Pakistan and Kenya. The kits include a range of products, from a sterile birth kit to antiseptic (to prevent the umbilical stump from getting infected). The small business was created to help reduce neonatal and maternal mortality in poor countries — 99% of these deaths occur in the developing world. 
The company has ensured that all their products are ethically produced. They outsource production to Assisi Garments based in Tirupur, India, a nonprofit established by Franciscan nuns in 1994, which offers rehabilitation programs for disempowered women and disabled people through employment. All of Assisi Garments' profits are reinvested into local communities, such as in HIV clinics and cancer treatment centers. 
2. Patagonia cares a lot about the earth.
This sporting and outdoor goods company has gained a reputation for being a socially responsible business. It discourages its customers from purchasing its products if they're not actually needed, in order to minimize waste. On Cyber Monday, a day of online discounts and rampant consumerism, Patagonia sent a message to its patrons that simply said: "DON'T BUY THIS JACKET."
"The environmental cost of everything we make is astonishing," they wrote to their customers. "Consider the R2® Jacket shown, one of our best sellers. To make it required 135 liters of water, enough to meet the daily needs (three glasses a day) of 45 people. Its journey from its origin as 60% recycled polyester to our Reno warehouse generated nearly 20 pounds of carbon dioxide, 24 times the weight of the finished product." 
Patagonia co-founder Yvon Chouinard helped create 1% for the Planet in 2002, which unites and encourages business to donate at least 1% of their profits towards environmental sustainability. Since its inception, the alliance has generated $100 million for the environment.
3. LSTN helps people with hearing disabilities listen. 
This swanky headphones company uses wood to manufacture their product and has teamed up with Starkey Hearing Foundation to help restore hearing for those whose hearing is impaired. To date, they have helped more than 20,000 people. Starkey Hearing Foundation provides hearing aids and runs a hearing aid recycling program.
The foundation also runs "an education and awareness campaign," known as Listen Carefully, to help mitigate hearing loss for young people.
The company has found success and is currently expanding. It launched an Indiegogo campaign on Tuesday to branch out from headphones into Bluetooth speakers. 
4. Rumi Spice empowers Afghan farmers and women.
After having spent time in Afghanistan, a handful of American veterans saw firsthand the impact war was having on agricultural infrastructure, which 60% of the country relies on to survive. So, the vets decided to create Rumi Spice, a company that internationally sells saffron grown by Afghan farmers. It is a safe and sustainable alternative to growing poppy for opium, a lucrative (but illegal) option for poor farmers. 
Thus far, Rumi Spice has packaged and distributed the product in America, but they completed a Kickstarter campaign in June to finance a processing facility in Afghanistan, which will only promote more jobs. On Aug. 26, they celebrated Women's Equality Day by hiring 120 Afghan women for the facility. 
5. Warby Parker provides glasses to people in need.
This eyeglasses company subscribes to the "buy a pair, give a pair" system, where they donate a pair of frames to people in need, from Guatemala to India, for every frame purchased. 
Warby Parker partners with nonprofits on the ground in developing countries, which train people to conduct eye exams — those people are then able to sell affordable glasses frames. The company opted for a business model that allowed participants to sell frames as it believes this is the way to make a lasting impact in a community.
So far, Warby Parker has helped distribute more than 1 million pairs of glasses.
6. d.light lights up the world (and charges phones) for people with no electricity. 
Around 1.3 billion people in this world do not have access to electricity, according to the International Energy Agency. This can interfere with almost every aspect of life, from cooking to medical needs, not to mention the inability for children to study or read after the sun sets. Some people rely on kerosene lanterns, but those are expensive, dangerous and emit harmful fumes. 
Instead, d.light offers affordable, solar powered lights that last 4-16 hours, for people in developing countries. Certain models of these lanterns are multifunctional, equipped to charge mobile phones, for example. 
"d.light is a global social enterprise aiming to improve the lives of the two billion people in the developing world that live without access to reliable energy," the company states. The company has helped light up the lives of 50 million people. 
7. Headbands of Hope makes children with cancer smile.
While at university in 2011, Jessica Ekstrom interned at an organization which granted wishes, when she observed girls undergoing chemotherapy derived great pleasure from wearing fun headbands after their hair loss. One year later, Ekstrom set up Headbands of Hope — with every purchase, a headband is donated to a child fighting cancer. 
The company recently started a boy's line of headgear, too, and expanded into accessories as of October, known as the Hope Market. The Hope Market works with a different charity for children with cancer each month. "Let's spread hope in all kids," Ekstrom writes on her company's website. 
Since its inception, Headbands of Hope has distributed fanciful headgear to every hospital for children in America.