11 Times Celebrities Spoke Out About Why We Need More Representation in Hollywood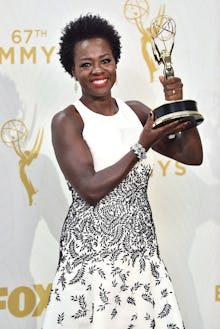 When Viola Davis accepted her history-making Emmy for best actress in a drama earlier this month, she didn't rest on laurels. She didn't claim that, because she won this award, diversity in Hollywood was resolved. Instead, in an impassioned speech, Davis called for everyone in that room to do better.
"Let me tell you something: The only thing that separates women of color from anyone else is opportunity," Davis said. She was right.
Despite the extreme profitability of broad representation in Hollywood, diversity in film remains in desperate straits. Parts for women and nonwhite actors in the top films are in limited supply, and have been for years. The opportunities of which Davis speaks just aren't there.
Luckily, Davis isn't fighting the war alone. Increasingly, actors are speaking up for more diversity in Hollywood both in front of and behind the camera. Here are 11 times when celebrities used their platforms to call for an all-too-necessary change.
Denzel Washington
Washington, a two-time Oscar winner, gave a talk at the Wallis Annenberg Center for the Performing Arts earlier this month in which he touched on diversity. He was asked about the connection between diversity behind the scenes and in front of the camera, in reference to Matt Damon's recent assertion on HBO's Project Greenlight that the two were independent.
"If you're going to depend on someone outside of you to write for you, you're going to be waiting a long time," Washington said. "We have to write about what we know. I guess Steven Spielberg could have directed Goodfellas and Martin Scorsese could have directed Schindler's List, but it's a culture. You write about what you know first."
Cate Blanchett
When Blanchett accepted her Oscar for best actress in 2014, she didn't just make a minor point about gender equality in the film industry. Her point was the size of the world. Her acceptance speech for Blue Jasmine challenged the status quo in a way not many actors in her position would pursue.
"Perhaps those of us in the industry who are still foolishly clinging to the idea that female films with women at the center are niche experiences [can learn] they are not," she said. "Audiences want to see them and, in fact, they earn money. The world is round, people!"
Ellen Page
Ahead of this fall's new film season, several actors took part in a piece for the New York Times about roles for women both in front of and behind the camera. While most of the participating actresses — including Blanchett — kept their focus primarily on women in general, Freeheld star Page got specific.
"Absolutely," she said when asked about women being denied opportunities in Hollywood. "Women and all minorities, African-American men, African-American women, trans men, trans women, the list goes on."
In fighting to get Freeheld made, Page also helped create for herself (and co-star Julianne Moore) stories not just about women, but queer women. The process pushed her to come out as a lesbian.
Julianne Moore
In that same New York Times piece, Page's co-star Moore lamented that the limited number of roles for women kept movies from looking like the life she recognized.
"Sometimes I read a script and there's only one female in it. That's not what my world looks like," she said. "I have days where the only men I see are my husband and my teenage son, but the rest of the day, I go to my yoga class, I see a female friend for lunch, I talk to my female manager on the phone. So how is that even possible?"
Octavia Spencer
After she won an Oscar for The Help, Spencer became one of Hollywood's most in-demand black actresses. That's a position she both understands and wants to abdicate, as she indicated in a March interview with BuzzFeed. Spencer is highly aware of all the minority voices out there that deserve representation.
"I want to see more Asian, I want to see more Latin, I want more Indian," Spencer said. "There's more than Mindy Kaling out there, guys! There's more than Bai Ling. There's more than the five or six of us — Kerry, Viola, myself, Taraji, Nicole Beharie. There are so many more women and men who deserve opportunities. People of color. Period."
Matt McGorry
McGorry, a main figure in both How to Get Away With Murder and Orange Is the New Black, isn't quiet about being a feminist. His work life reflects that personal priority: In a video interview with Fusion, the actor discussed being one of the few white men on both of his regular series.
"I think it'd probably feel weirder if I were on a show where that were not the case," McGorry said. "I'm sort of the minority on these shows, and I think that's great, because I think that's what our industry needs."
Jessica Chastain
On Martin Luther King Jr.'s birthday this year, Jessica Chastain gave speech at the 2015 Critics Choice Awards. Those two facts are related because Chastain chose to combine them, using her time to give an impassioned speech about diversity.
"It got me thinking about our need to build the strength of diversity in our industry," she said. "And to stand together against homophobic, sexist, misogynistic, anti-Semitic and racist agendas. I'm an optimist. And I can't help but feel hopeful about the future of film, especially looking at all these beautiful people in this room. Martin Luther King Jr. said, 'Our lives begin to end the day we become silent about things that matter.' And I would like to encourage everyone in this room to please speak up."
America Ferrera
Exactly two Latina actresses have won the Golden Globe for best lead actress in a musical or comedy series: Gina Rodriguez for Jane the Virgin and America Ferrera for Ugly Betty. Both won for shows based on telenovelas. However, the issue of representation is not limited to the Globes themselves, as Ferrera said in an interview with the Huffington Post.
"It's not a Golden Globes problem, it's not an award ceremony problem. It's a creation of content issue," Ferrera said, alluding to the same thing Davis talked about in her speech. "We need more in art and entertainment that is reflective of the world that we live in. And there's just not enough reflection in it for women, for people of color. There's still a huge amount of stories that have yet to be told, and we need those voices to find those platforms so that they can share those experiences."
Michael B. Jordan
When Jordan penned an op-ed for Entertainment Weekly about his casting as Johnny Storm in the Fantastic Four remake, he made waves. His essay was a bold declaration that fans should look beyond lines of color when thinking about his characterization.
"Some people may look at my casting as political correctness or an attempt to meet a racial quota, or as part of the year of 'Black Film,'" he wrote at the time. "Or they could look at it as a creative choice by the director, Josh Trank, who is in an interracial relationship himself — a reflection of what a modern family looks like today."
Zoe Kravitz
Back in April, the daughter of Lenny Kravitz and Lisa Bonet spoke about her personal sensitivity to representation in Hollywood in an interview with Refinery29. "I think as black women in Hollywood, or brown or whatever you want to call me, we've been hyperaware of the imbalance," she said.
Yet the real issue, Kravitz added, was not overt racism, but a systematic part of an unchanging and unchallenged standard. "What I've found, though, is that it's not like someone doesn't want to hire a person because she's black," she said. "You cast a movie, and they don't cast a black person, and it wasn't necessarily on purpose. Writer, directors, they just don't think about it. Because it's not their struggle."
Jackie Cruz
As Flaca on Orange Is the New Black, Cruz works as part of an incredibly diverse, female-centric ensemble. The previously mentioned McGorry is one of few men on the show. Most powerfully for Cruz, however, is the way Flaca is written, as she indicated in an interview with Complex.
"Just like me, Flaca's an Americanized Latin girl who speaks Spanish and was born in the States. It's important to me that Hollywood is showing that," she said. "Because — even to this day — I'm auditioning for characters who can't speak English. It's like, 'Oh my god. Still?!'"