Sepp Blatter to Remain as FIFA President, Says He's "Done Nothing Illegal or Improper"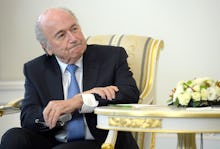 Despite controversy surrounding Sepp Blatter and an open investigation on the FIFA president into his involvement in widespread corruption, the Swiss football administrator is vowing to remain the head of the league, the Guardian reports. 
Blatter returned to work on Monday morning at the FIFA headquarters in Zürich while the ethics committee continues to investigate a payment of more than $1 million he made to Michel Platini, president of the Union of European Football Associations, the governing body of football in Europe. 
The ethics committee is investigating whether the money sent to Platini is considered "disloyal payment," or otherwise a "thank you" for not challenging the FIFA president in the league's 2011 elections. Although the money wasn't deposited to Platini until 2011, Blatter told authorities it was simply back pay for work the UEFA president performed nine years before the payment went through, beginning in 1998. 
What's more, Platini has planned to run for president of FIFA come February, and has been trying to take the controversy in stride. He agreed to interrogations with the committee and authorities along with Blatter. 
In a statement released Monday morning, Blatter's lawyer Lorenz Erni defended the transaction, as well as UEFA President Platini. He writes:
"President Blatter spoke to FIFA staff today and informed the staff that he was cooperating with the authorities, reiterated that he had done nothing illegal or improper and stated that he would remain as president of FIFA. On the Platini matter, President Blatter on Friday shared with the Swiss authorities the fact that Mr. Platini had a valuable employment relationship with FIFA serving as an adviser to the president beginning in 1998. He explained to the prosecutors that the payments were valid compensation and nothing more and were properly accounted for within FIFA, including the withholding of social security contributions."
For Blatter, the controversy surrounding the questionably late payment to Platini follows another pending investigation for selling World Cup TV prices with the classic "best friend discount" for disgraced former FIFA Vice President Jack Warner.