UN General Assembly: Agenda, Live Stream and What to Expect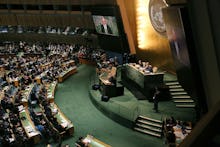 This year's U.N. General Assembly commenced on Monday morning with palpable tension between U.S. President Barack Obama and Russian President Vladimir Putin. Obama, who gave his speech before Putin spoke, directly criticized the Russian government for supporting Syrian President Bashar Assad. The two leaders ultimately blamed each other for causing war in Syria and the resulting Syrian refugee crisis. 
Both leaders' speeches were part of the general debate among the world's leaders that will continue through Saturday, including the high-level thematic debate on Thursday and Friday that will address international peace and security. A live stream of this week's entire event is available on U.N. Web TV. 
While addressing the assembly at its 70th regular session, Obama implied the Syrian government is part of "dangerous currents" that can pull us "back into a darker, more disordered world."
His comments seemed to be directed at Putin, who an hour later justified his support of Assad, saying he thinks "it's an enormous mistake to refuse to cooperate with the Syrian government" and "no one but Assad's forces are truly fighting the Islamic State."
As part of Chinese President Xi Jinping's first U.S. visit, he will also address the U.N. General Assembly. Xi already garnered attention Sunday when he vowed to "reaffirm" China's commitment to gender equality, reports the New York Times.
Cuban President Raul Castro will be making his U.N. General Assembly debut on Monday afternoon, reports CNN. His brother Fidel Castro set a record for length for his four-hour and 29-minute speech at the 1960 General Assembly. 
The Palestinian flag will ascend in a symbolic ceremony at the Rose Garden of the U.N. Headquarters on Wednesday. Although Palestine isn't an official member of the U.N., the General Assembly voted earlier this month to add the hoped-for state's flag as a nonmember observer.