Sofia Vergara Has Zero Interest in Looking Like a "Virgin" at Her Wedding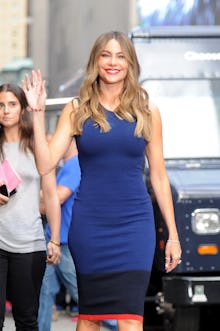 When you think about how far we've progressed as a culture in terms of gender roles and expectations, there are still a handful of old-fashioned, sexist traditions that continue to linger. From the distinctly gendered roles of groomsmen and bridesmaids to the fact that the bride is probably wearing white, many hetero weddings seem hopelessly stuck in the mid-1950s.
Bride-to-be Sofia Vergara isn't having any of that, though.
In an interview with People, the actress said she won't be dressed like the typical bride at her upcoming wedding to fiancé Joe Manganiello.
"Personally, I know that I don't like the natural look that some brides do. I'm 43; I don't really need to look like a virgin getting married," Vergara told the magazine. "I want to look sexy. I want to look great. I want to look good and [wear] something that I know is going to look good in pictures. I know I'm going to do something that will make me feel pretty and well put together, like a bold lip and this foundation."
Bucking old traditions: While Vergara didn't explicitly say she wasn't going to wear white at her wedding, her "virgin" comment indicates she's fed up with the tradition of brides having to look like pure, untouched flowers on their wedding days. Although the white wedding dress didn't come into vogue until Queen Victoria's wedding in 1840, the concept of brides as emblems of virginity has been around forever, with Godey's Lady's Book (basically the Cosmo of the 1800s) writing the wedding dress is symbolic "of the purity and innocence of girlhood and the unsullied heart she now yields to the chosen one."
Of course, rather than being emblems of "purity and innocence," most modern brides are grown-ass women who are making the extremely grown-ass decision to commit to a life partner. That's why a number of celebrities like Sarah Jessica Parker and Gwen Stefani have eschewed wearing white dresses and veils at their weddings, opting instead for a more mature bridal look. It's also fairly common for brides in their 40s and over to seek out alternatives to the traditional wedding dress. 
By refusing to look like a "virgin" at her wedding, Vergara is making the point that women don't have to look like blushing brides at their weddings; instead, they can opt for whatever wedding look is right for them. Besides, to paraphrase Miranda on Sex and the City, when you have a son (as Vergara does), the jig is clearly up re: your virginity status. You might as well wear something to your wedding that makes you look like the sexy, awesome, nonvirgin you are. 
h/t People