GoPro Hero+ Camera: Price and How to Buy Latest GoPro Economy Camera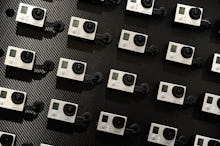 Photographers in the market for a new camera who don't want to shell out their entire savings (or carry around a gigantic tripod) can look no further. GoPro unveiled a new, low-cost camera Sunday that provides many of the same features the company's five other cameras already include, like Wi-Fi and waterproof casing, for $199.
Other GoPro cameras are priced well above $200, with all but one of its recording cameras priced above $300, according to the company's website. The first-ever GoPro Hero, which doesn't support Wi-Fi functionality, is priced at $129. 
Additionally, GoPro lowered the price of the GoPro Hero4 Session from $400 to $300 on Sunday, while the newly released GoPro Hero+ is the lowest price tag the company has ever featured during the release of a new gadget. 
What's more, the newest cost-effective camera is actually just as efficient and up-to-par as previously released versions. The GoPro Hero+ maintains 1080p HD recording capabilities, as well as the ability to capture 8-megapixel stills, and boasts an 40-meter underwater recording depth.
The camera can be purchased via the GoPro website.