These Amazing Native American Designers Are Getting a Huge Endorsement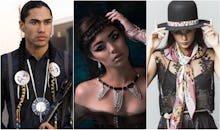 The emerald dress' pattern designed by Bethany Yellowtail consists of tiny illustrated elk teeth, which often adorned traditional clothing worn by Crow Nation members. The panther imagery in Kristen Dorsey's hand-sculpted jewelry is a nod to her Chickasaw heritage and references a powerful mythical being believed to travel the underworld via rivers and lakes. On the online boutique Beyond Buckskin, Jessica R. Metcalfe curates merchandise by contemporary Native American designers, ranging from beaded cuffs and earrings to bags made out of deer hide.
The three women are of Native heritage, their work infused with a deep cultural appreciation for the histories and traditions of their respective communities. They also share another common thread: They're finalists in an online competition organized by Martha Stewart that spotlights handcrafted products made in the U.S.
On Sept. 21, a panel of judges announced that Yellowtail, Dorsey and Metcalfe were among the finalists in four different categories. Moving forward, the winners, who are up for a $10,000 cash prize and a trip to New York City, will be determined by the public.
Native American influences in fashion aren't difficult to find. Feathered headdresses are regularly worn at music festivals, even though they hold a sacred significance in Native American culture. Retail companies have also faced lawsuits for plagiarizing trademarked goods and other designers have paid "tribute" to indigenous people while simultaneously ripping off designs by Native American designers.
But by honoring the work of three Native American designers, the Martha Stewart American-Made Competition is providing a platform for members of a marginalized and underrepresented community. "To be recognized on that level is so exciting and it really just makes me feel like all your hard work is heading in the right direction," Metcalfe told Mic.
Here's a look at what motivates each woman to create and share their Native American culture.
Jessica Metcalfe
In 2009, Jessica Metcalfe, part of the Turtle Mountain Band of Chippewa Indians, launched her blog Beyond Buckskin, where she documented instances of cultural appropriation by major retailers.
Things took a turn in 2012 when the Navajo Nation sued Urban Outfitters for plagiarizing textiles that were distinctly Navajo. Metcalfe said she then realized there wasn't an online space where shoppers could easily find Native American artists to buy merchandise from and support instead of resorting to watered-down copycats.
"It just felt like the time was now, I have to launch this now," she said. "This needs to happen and I need to put everything in it, it can't just be my side thing that I do in the evening." Metcalfe quit her job and devoted herself to building up the Beyond Buckskin boutique, which highlights modern Native American artists who break down stereotypes about Native American designs.
"There is a movement going on. There are Native designers and artists who are particularly extraordinary," Metcalfe said. "But the average person doesn't know about this stuff. So that's where I come in."
Metcalfe has an idea of why she was selected for the competition. In recent years, the public has become more interested in hand-crafted and locally sourced goods, which has led to a greater appreciation for American-made products, she said.
"There is a part of me that is like, 'Hey, there isn't anything more American than like, Native American.' You know, we're kind of like at the core here," she said. 
She looks forward to continuing her work by highlighting Native American designers who infuse history and cultural meaning into their products. "Those stories [in the designer's work] are often rooted in ancient stories that were told here a long time ago," Metcalfe said."They're not just objects, they're much more than that."
Kristen Dorsey
Kristen Dorsey remembers how, during her childhood, several family members owned an unassuming book with yellowed pages. The book — a thesis, in fact — included a detailed history of her family lineage, complete with information about her Chickasaw ancestors in the Colbert clan, a prominent family from the Southeastern region that fought in the French and Indian War.
Her curiosity about the book inspired a lifelong obsession with her family history. "I'm just fascinated with the generations before us and how that's shaped us today," she said. Dorsey incorporates that historical appreciation into her jewelry designs.
While in college, Dorsey began formally researching the artistic styles of her community and Southeastern Native Americans. To revitalize Southeastern traditions, she began learning how to weld and work with precious metals for her jewelry collections, often incorporating materials her ancestors typically used like conch shells, pearls, copper and the occasional stingray skin. 
Stories from Chickasaw folklore also made their way into her designs. That's why each piece on her site has accompanying text that contextualizes the jewelry. 
Her latest collection features designs resembling warrior's shields, an allusion to her matrilineal Native community. "I have these shields symbolize how women are guardians of their children first and then their community and then their culture," she said. "And they're this link that culture is passed on through."
Dorsey said she feels a certain drive to continue sharing her culture through her jewelry. In doing so, she hopes to raise the profile of Southeastern Native American art while dispelling misconceptions.
"By doing so, I'm constantly breaking down stereotypes that people have," she said. "About who Native Americans are and what Native American jewelry is and what Native American art is."
Bethany Yellowtail
Inspired to go into fashion design by a home-economics teacher, Bethany Yellowtail moved to Los Angeles after graduating high school, where she studied at the Fashion Institute of Technology. Earlier this year, she launched her first collection at age 26. Her designs feature feminine and classic silhouettes like flowing dresses and long skirts. 
A close look reveals tributes to her Native American heritage as part of the Crow and Northern Cheyenne Nations. In one design, elk teeth line a sheer black slip dress, a reference to the traditional regalia worn in her community.
For Yellowtail, incorporating elements of her Native American background is part of a conscious decision to share her culture with non-Native people. So often, instances of cultural appropriation make headlines in the press and a hostile conversation ensues, she said. By designing clothes that everyone can wear, she hopes to open a positive dialogue about the stories her culture has to offer, Yellowtail said.
When she first began designing her collection, Yellowtail was inspired by two family photos. One black-and-white image depicted her great-aunt doing the women's warbonnet dance, or "Shoshone Warbonnet Dance," in the 1930s. The other was a color photograph of her sister doing the same dance to commemorate young women leaders. 
"Just putting [the photos] next to each other gave me this overwhelming feeling of love and pride," Yellowtail said. "And it was just so beautiful to clearly see this story of continuity of our people and that our traditions are still being passed on." 
Those photos inspired Yellowtail to commission a custom piece of art from John Pepion depicting women wearing the warbonnet. The resulting image is printed on a chiffon scarf as part of her collection.
"I love the stories that come from our community and I want to share that with people who want to have a better understanding," she said. "When it comes down to it, I'm just sharing my story. I'm sharing who I am as a woman, as a Crow and Cheyenne woman, an indigenous woman. And to share it is very personal."
Sharing that story can be a vulnerable experience. After all, the history of Native American in the United States is fraught with trauma from relocation and continued marginalization. Still, the fact that Native American stories are so rarely authentically told in mainstream media drives Yellowtail to keep designing.
"The only way to do it is for us to do it and to step up to that plate and just do it ourselves it," she said. "If we want to see proper representation, nobody can represent ourselves like we can."