Google Fall Event 2015 Live Stream: How to Watch Nexus 5X, 6P and Chromecast 2 Event Live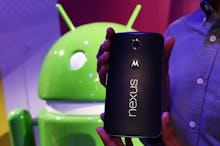 It's Google's turn to show off. The search giant will unveil two Nexus smartphones and a new version of Android and Chromecast at its keynote event Tuesday, CNET reports. 
The event will be hosted in San Francisco and begins at noon EDT. You can watch a live stream of the event here. 
Here's what to expect:
The Nexus 5X: Built in collaboration with LG, the 5X smartphone is the Nexus 5 revamped. The phone is expected to boast features including a 5.2-inch display, more speed and a 13-megapixel camera (compared to the 12-megapixel camera of the iPhone 6s.) The back of the phone is expected to offer color options including white, black and a bluish green, the Verge reports. Price and release date are TBD.
The Nexus 6P: The Nexus 6 smartphone was introduced last year in collaboration with Motorola. The Nexus 6P is made by Huawei and expected to be quite different from the 6, according to the Verge. Those differences are rumored to include a new design, enhanced 11-megapixel back camera and 7-megapixel front camera and be available in silver, black, white and gold. 
Android Marshmallow: The newest version of Android software was unveiled in May in tandem with Android Pay, Android's version of Apple Pay. The software will also include a new feature for Google's version of Siri, Google Now. The feature, Now on Tap, provides users with Google search-powered information based on what they are doing, reports CNET.
Chromecast: Google should also unveil a new version of its video-streaming product, Chromecast. The new version of the Chromecast device, which resembles a USB drive and can stream video from your smartphone or tablet to a TV, is expected to include an audio-streaming feature that allows users to stream music from smartphones to a speaker through a headphone jack, CNET reports.