Gay Couple Tricks Indiana Pizzeria Into Catering Their Wedding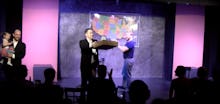 When Indiana same-sex couple Robin Trevino and husband Jason Delgatto decided to renew their vows in front of friends and family on Saturday, they were in the mood for pizza. More specifically, pizza from Memories Pizza. 
In early April, Memories Pizza in Walkerton, Indiana, came under harsh national scrutiny after announcing they would not cater any LGBT weddings because they're a "Christian establishment." A month earlier, Indiana Gov. Mike Pence has passed the Religious Freedom Restoration Act, making Memories Pizza's proclamation completely legal. 
"If a gay couple came in and wanted us to provide pizzas for their wedding, we would have to say no," co-owner Crystal O'Connor told local news station ABC 57. "That lifestyle is something they choose. I choose to be heterosexual. They choose to be homosexual. Why should I be beat over the head to go along with something they choose?"
Though the backlash against Memories Pizza has mostly died down all these months later, Trevino and Delgatto decided they still wanted to send a message. So, Trevino filmed himself driving to and picking up pizza from a couple pies for his gay wedding ceremony. 
When he arrived at Memories, Trevino tried to look "straight and confident" and ordered two pizza pies to go. The transaction, which Trevino recorded on a seemingly hidden camera, was simple enough, and just like that, Memories unknowingly catered a gay wedding. Trevino ordered the pizzas from O'Connor who had previously said she would deny service to same-sex wedding receptions.
Trevino is helped his comedy troupe, GayCo Ensemble, produce a series called "50 States of Gay" in celebration of the recent Supreme Court ruling that made marriage equality the law of the land.