Tesla Model S P85D: Range, Price, Specs, Sell Date and How to Buy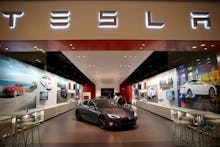 Tesla CEO Elon Musk is betting big on a gas-free future with the automaker's latest line of electric cars. With a new design and updated features, the Tesla Model S P85D is an eco-friendly sedan that might just be sexy enough to change the world — at least, that's the idea that helps sell the car. 
The model can go up to 253 miles between charges, according to the company. According to an experiment by a couple of Danish men, the P85D can actually travel much further when maintaining lower speeds: By keeping an average speed of 24.2 mph, the drivers were able to travel more than 400 miles, Tech Times reported in August.
"Range anxiety": Yet consumers considering making the jump to electric cars grapple with a concern called "range anxiety," or exactly how far an electric vehicle will travel on a full charge. Speaking to Danish newspaper Borsen on Wednesday, Musk tried to put those fears to rest by sharing his vision for electric car range. 
In the interview, Musk predicts battery tech will improve between 5% and 10% each year. When asked when we'll break the 1,000-kilometer, or 622-mile, range for a full charge, Musk said, "We're pretty close."
"The record right now is 800 kilometers, that's the furtherest that anyone has driven a model S," Musk said. "In order to do that they did drive at a relatively slow speed. My guess is probably we could break 1,000 kilometers within a year or two." 
By the year 2020, Musk estimates that a Tesla car will be able to travel 1,200 kilometers on a single charge.
Breaking down the P859: The P85D model builds on its predecessor, the P85. The latest edition adds all-wheel drive and a second electric motor, the combination of which produces 568 kilowatts of power, according to Gizmag. The P85D is available for purchase online, however the vehicle is backordered until at least late November. 
A 17-inch touch screen streamlines the vehicle's console, rolling navigation, infotainment and the car's controls into a single interface. According to Gizmag, temperature settings stay locked at the base of the screen, but drivers can opt to split the remaining screen space to multitask navigation and other controls.
The car is equipped with autopilot and can accelerate from zero to 60 mph in 2.8 seconds. 
According to Tesla, the vehicle retails for $105,000 plus fees of $1,200. However, after a federal tax incentive of minus $7,500 in certain states and gas savings (Tesla estimates that going gas-free can save drivers up to $10,000 in five years) the car comes out to out to $87,500. 
Tesla's S P85D won AAA's top position in its fifth-annual Green Car Guide, Tech Insider reports. And according to Consumer Reports, customer response to the P85D has been overwhelmingly positive. 
The consumer ratings organization gave the car a 103 out of 100 on its rating system. "The car set a new benchmark, so we had to make changes to our scoring to account for it," the group said. 
The makers of Tesla have erected 197 Supercharger Stations across the US, according to Gizmag. The automaker claims there are 520 Supercharger stations worldwide and a total of 2,935 Superchargers, and the company's got aggressive plans to expand station locations in 2016.  
Financially, the 12-year-old automaker is thriving. Between 2012 and 2014, non-GAAP revenue, a standard used to compare companies' adjusted earnings, jumped nearly 800%, according to a Feb. 11 letter to company shareholders. And in case there's any lingerings doubts about the electric car market, remember that Porsche released its own all-electric sports car, the Mission E, on Sept. 15. Musk's response? Bring it on.
With consumer interest and revenues on the rise, a gas-free future is a goal that's easy to believe.  
As a postscript, Tesla's got Oprah's seal of approval.