National Women's Health and Fitness Day: Honoring 7 Female Athletes Committed to Fitness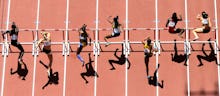 Wednesday marks national Women's Health and Fitness Day, the largest fitness promotion day of the year for women in the United States.
This year more than 500 groups and between 50,000 and 75,000 women of all ages are expected to participate in the national holiday, according to organizers. The event, which is recognized by the Health Information Resource Center, aims to empower women to take charge of their health.
"Our goal for this national event is to encourage women to take control of their health, to learn the facts they need to make smart health choices and to make time for regular physical activity," Patricia Henze, executive director of the Health Information Resource Center, said in a press release. "Women's Health and Fitness Day is also designed to showcase the many women's health resources available through the local organizations that will host events."
In honor of National Women's Health and Fitness Day, we've compiled a list of 7 inspiring female athletes whose always-on commitment to health and fitness is an inspiration to many.
1. Tennis pro Serena Williams
This inimitable tennis champ and Michigander holds 21 grand slams, 69 singles titles, 22 doubles titles and four gold medals, among other distinctions, according to her website. Most recently, on Tuesday Williams tied with professional tennis player Chris Evert for third place on the Women's Tennis Association's "All-Time Weeks at No. 1" list.  
"I love that I am a full woman, and I'm strong and I'm powerful and I'm beautiful at the same time," Williams said in an interview with Good Morning America earlier this month. "And there's nothing wrong with that." Enough said.
2. U.S. snowboarder Kelly Clark 
This 32-year-old Rhode Island native's cannon of awards is as impressive as her technical ability. A six-time Winter X Games gold medalist, Clark has also competed in four Olympic Winter Games. US Snowboarding calls Clark "the most dominate female in snowboarding history." Her foundation, the Kelly Clark Foundation, has awarded more than $100,000 in grants and scholarships to young boarders.
"I look around to the people I'm competing with and I get inspired," Clark said in February 2014, per Women's Health Magazine. "But if you spend too much time doing that, you end up getting intimidated or threatened instead. Ultimately, I think what's made me so dominant is that I'm internally driven."
3. Mixed martial arts pro Ronda Rousey
At 28, "Rowdy" Rousey is an undefeated women's united fighting bantamweight champion. Per United Fighting Champions, "Ronda Rousey isn't just the most recognizable woman in the UFC, she is arguably one of the most recognizable athletes in the world today." Blessed with many talents, this fighter is also an actress, having appeared on the HBO hit series Entourage, The Expendables 3 and action flick Furious 7.
"People say to me all the time, 'You have no fear,'" Rousey said in a 2012 interview with Esquire. "I tell them, 'No, that's not true. I'm scared all the time. You have to have fear in order to have courage. I'm a courageous person because I'm a scared person.'"
4. Women's soccer champ Alex Morgan
Morgan holds a 1999 US World Cup title and is a certified Olympic, Women's Professional Soccer and National Women's Soccer League champion, per her bio. And if you weren't already colored impressed, this stellar soccer player is also the author of a New York Times bestseller called Saving The Team. 
5. Long-distance swimmer Diana Nyad 
Though it took two attempts, Nyad swam around the island of Manhattan in 7 hours, 57 minutes in the '70s, according the the New Yorker. In 2013 at the age of 64, Nyad completed a historic 110-mile swim from Cuba to the U.S. 
Nyad is our list's second athlete-turned-author; she's been published three times over. In 1978, Nyad published a tell-all autobiography, Other Shores, that details her head-to-head battles with mother nature and how she braved the sea to go the distance. 
"The body is pathetic compared to what we have inside us," Nyad said, simply yet powerfully, in a sit down with Opera in 2013. 
6. Pro 'baller Brittney Griner
Houston's Brittney Griner is a pro basketball player and a current member of the Phoenix Mercury crew. According to the Women's National Basketball Association, Griner, 24, earned 21 of a possible 38 votes to take home the title of WNBA defensive player of the year in 2014.
Griner is also the single-game record-holder for blocked shots, according to the the WNBA. With 11 blocked shots during a game, Griner succeeded previous record holders Margo Dydek and Lisa Leslie.
7. All-star gymnast Gabby Douglas
U.S. gymnast Gabby Douglas is a 19-year-old champion famous for her victories in the 2012 Summer Olympics. According to her bio, Douglas took home two gold medals in 2012: one individual all-around title and one team all-around title. That year, Douglas made history by becoming the first African-American to win the individual all-around title and the first American gymnast to win team and individual all-around titles in the same Olympics. We can expect to see more greatness from Douglas at the 2016 Olympics, as she expects to compete.
"When I heard I was added to the national team, I was elated," Douglas told ESPN in December 2014. "To end the year with this was absolutely awesome. I'm confident it's a good sign that I'm on the right path. My goal is to continue to dig deep and work hard."