Latest 2016 Presidential Poll Has More Good News for Marco Rubio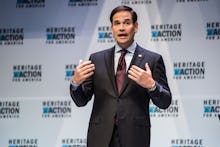 As the summer of Trump comes to an end, Florida Sen. Marco Rubio is moving quietly to the head of the Republican presidential pack. In a new NBC News/Wall Street Journal poll released Monday, Rubio emerged as the only candidate with any experience in elected office to register double-digit support among likely GOP voters.
Tied at 11% with former Hewlett-Packard CEO Carly Fiorina, Rubio still trails the billionaire real estate magnate Trump (21%) and retired neurosurgeon Dr. Ben Carson (20%), but he has opened up a four-point lead over former Florida Gov. Jeb Bush, who is languishing at 7%.
Rubio has mostly avoided entering Trump's poisonous orbit, save for a sharp round of sparring this past week, and seems to be reaping the benefits as the crowded field begins to thin out. His restrained, serious performances in two often circus-like debates have put to bed some questions about his ability to perform on a national stage.
Quiet ascent: "Anytime Marco is on TV before millions of people, it's a good night for our campaign," Alex Conant, communications director for the Rubio campaign, told Mic in an email last week. Rubio saw a spike in donations after the first debate and was seeing another surge after the second, Conant said.
One of three sitting senators in the GOP contest, Rubio, who is forbidden from seeking re-election while simultaneously running for president by Florida state law, is gaining steam at the right time. However, his campaign has fought hard to deflect the attention that comes with an upward swing in the polls.
"I don't know, and quite frankly, I don't care what the polls say right now," Conant said after after that second GOP gathering in California. "Polls at this stage of the race are not indicative of who will actually be leading after we have 10 more debates and millions of TV commercials and when Republicans start voting in February. We are focused on exercising our strategy and don't pay much attention to the early polls. We've already seen several frontrunners in this race, and will likely see more."
His to win? With Trump fading and Carson and Fiorina flattening, the math suggests Rubio will be the next to wear the crown. But the arguments for his staying power are more convincing than anything Trump had to say about his own.
To start, Rubio's friend and former mentor Bush has been too busy trying to explain away ugly gaffes or, according to recent reports, soothe anxious donors, to make much of a mark on the race's substance. Meanwhile, Wisconsin Gov. Scott Walker, one of the few candidates who might've been able to attract support across the party, dropped out after only 70 days on the trail.
Rubio, 44, still faces questions about his relative youth but if more than a half-century of American presidential politics are any indication — presidents Kennedy, Clinton and Obama all come to mind — those concerns can be dashed by running a responsible campaign.  
To date, he's done precisely that. Now, with only a few months to go until the voting begins, Rubio is uniquely positioned to unite the Republican Party's perpetually warring factions, if only as their best option against likely Democratic nominee Hillary Clinton.
"In a field this strong and this big, being able to draw votes from all corners of the party is a real advantage," Conant said. As Republicans begin to scan their options more carefully, Rubio seems especially ready press his luck.