Trevor Noah Kicks Off First 'Daily Show' Poking Fun at the Pope-Mobile and "Club Congress"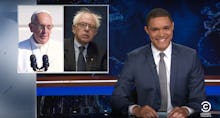 The Daily Show With Trevor Noah aired its first episode Monday on Comedy Central. The 31-year-old South African host sat behind an oversized desk as a cheering audience welcomed him to prime time.
The opening monologue began on a humble note, with Noah saying that while growing up in South Africa, he never expected to have an indoor toilet, let alone host The Daily Show. In a similar moment to Jon Stewart's ascension to the chair in 1999, Noah invoked the imagery of family. "Dad has left," said Noah. "Now it feels like the family has a new stepdad."
Noah also addressed what had been simmering concerns before his arrival that the show had seemingly passed over many other candidates including women and U.S. citizens. Noah said in both cases a number of qualified candidates had been asked, and declined.
"Once more, a job Americans rejected is now being done by an immigrant," he said.
Noah wasted no time lacing into the news of the day, and hewed close to the format pioneered by his famous predecessor. First up, Pope Francis.
Noah poked fun at heights of pope-mania that included specialized pope emojis and also noted the anti-poverty crusading pontiff reminded him of "a young Bernie Sanders." Noah, however, seemed to take the most joy in Francis' car, a Fiat, which met him at the airport and was surrounded by a much larger caravan of SUVs from his security detail.
Noah could not help but speculate. "Oh, that's a tiny car," he said coyly. "Somebody's undercompensating."
For those unclear, he immediately clarified that, yes, it was a dick joke.
While at many points Noah's Daily Show appeared very similar to Stewart's, Noah showed a willingness to embrace a considerably darker shade of humor than most Daily Show watchers have come to expect. When discussing the recent resignation of Republican House Speaker John Boehner, Noah suggested the former speaker's role was similar to a bouncer at a nightclub, but that "Club Congress" would probably be "the worst club ever."
"First of all," Noah said, "there's hardly any women in the club, there's always a bunch of old guys talking about laying pipe. Oh, and everyone at the club had aides." The joke's kicker produced a visceral moment of shock for the live audience, before Noah clarified. "Aides, the people that help you!" 
In another segment he said Republicans arguing Boehner had not been conservative enough was like crack and crystal meth arguing over which was more addictive, with that gag ending in a joke about how crack "took down Whitney Houston." The remark produced another round of nervous applause from the audience.
Noah, however, seems to have anticipated it. "Too soon?" he asked. 
In his first show in 1999, Stewart also stuck close to the script of his predecessor, Craig Kilborn, with segments and gags that would make the modern Daily Show unrecognizable to most viewers today. 
Noah is not Stewart, and as he slowly makes the show his own, all fans are likely in for an exciting ride.