Laverne Cox Calls for Transgender People to Be Counted Differently in Census Reporting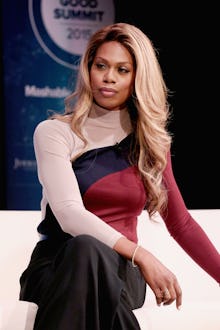 Laverne Cox has taken on a new issue: the United States Census Bureau. The Orange Is the New Black actress spoke Monday at the 2015 Social Good Summit in New York, focusing on the census' inability in its current form to represent transgender people. 
"What message are we sending to young people who are trans and gender-noncomforming when we don't even count them? We suggest that their identities don't even matter," Cox said at the two-day tech and new age media event. "I was thinking that visibility is only part of the equation. We must have social policy, systemic change. And then I thought about the census. Systemically, this idea of the gender binary is very much institutionalized in the fact that we just don't count trans people."
Among several issues Cox discussed with Anti-Violence Project public advocacy co-director Shelby Chestnut and senior strategist Cecilia Chung of the Transgender Law Center was this year's spike in violence against transgender people living in the U.S, as well as the lack of population data on the trans community in the census, Mashable reports. 
At least 17 trans women have been killed in the U.S. in 2015 so far. "When we look at violence, we also know there's more surrounding violence than just someone having bias against somebody," Anti-Violence Project co-director Chai Jindasurat told Mic. "For trans people, they're placed at risk of violence because they're also at high risk of homelessness, violence, job discrimination."
Currently, the closest thing the U.S. has to official statistics on the transgender community is a report from May titled "Likely Transgender Individuals in U.S. Federal Administrative Records and the 2010 Census." 
The most accurate estimate on the total trans population within the U.S., however, likely comes from a 2011 study by Gary Gates, research director at the University of California, Los Angeles Williams Institute. The study estimates nearly 700,000 people, or .3% of the total population, identify as transgender. "We see health disparities and socioeconomic disparities that are likely related to stigma and discrimination," Gates told the New York Times. "So, to understand those and try to figure out what the policy would be to try to remedy those disparities, we just have to have better data."
Cox acknowledges that providing accurate data won't solve the many issues facing transgender people in the U.S. However, it's a good start.
The actress, an outspoken LGBT activist, spoke on trans issues during her acceptance speech for the Stephen F. Kolzak award at the 2014 GLAAD awards.