Michelle Obama Just Gave 1,000 Schoolgirls Incredible Life Advice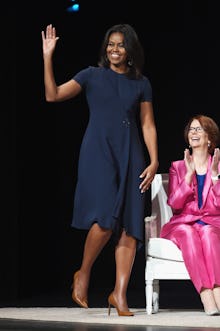 There are arguably few individuals who can hold the attention of more than 1,000 school-age girls captive for hours. However, if the excitement pulsing through the Apollo Theater in New York City on Tuesday morning was any indication, first lady Michelle Obama is certainly one of them.
Obama has recently promoted at the Global Citizens Festival and on talk shows like Late Show with Stephen Colbert the new girls' education initiative #62MillionGirls, a campaign to educate the 62 million girls around the world who are not in school. On Tuesday, though, she turned her attention to the young women in the midst of this experience. Along with moderator Cindi Leive, Glamour's editor-in-chief, and her co-panelists, former Australian Prime Minister Julia Gillard, Plan International student activist Nurfahada, and actress/U.N. Messenger of Peace Charlize Theron, Obama directly addressed at least 1,000 school-age girls from local schools as well as organizations like the Girl Scouts and Girl Up. 
Why the focus on girls? The panelists discussed the greater value of educating young women, both for the girls and society at large. Theron said education has been called a "social vaccination against HIV," adding that studies show when girls stay in school, they're much less likely to become infected. Gillard cited research suggesting education correlates with girls marrying later and having fewer children, who are then healthier and more likely to be educated. According to #62MillionGirls partner organization Girl Rising, girls with eight years of education are four times less likely to be married as children; children born to literate mothers are 50% more likely to survive past the age of 5.
But while these points are crucial, perhaps the most valuable information for those in the room came from Obama, who sprinkled the event with invaluable advice attendees could use immediately in their own education.
Value your education. As the name of the campaign points out, 62 million girls around the world are not in school. The opportunity to be in school, Obama told the audience, can't be taken for granted.
"When I think about those 62 million girls not in school, I think about myself and about my daughters," Obama told the audience. Obama said she would commute three hours everyday to attend a magnet high school "where every student valued education" because she believed it would serve as a necessary stepping stone to college and the future she wanted.
"I want you to be that hungry to get your education," she told the audience. "It is going to be the key to your future."
Invest in yourself. Obama urged young women not to underestimate the power they already have. 
"You are already mentors because there are girls in your community looking up to you," Obama assured the students. "Compete with the boys, beat the boys, because you all are capable." 
This leadership, she noted, stems from a sense of self-worth and investing in oneself. Obama said learning that she was worthy at a young age made all the difference in her ability to pursue her dreams. 
Young women must teach other that they're worthy, but "first and foremost we have to believe it to be true for ourselves," she said. "I learned that when I was young. I'm worthy. And if I'm worthy, so are you."
Failing is good. Self-worth, however, does not equal perfection. In fact, Obama said, failing is not only inevitable but necessary.
"Failure is an important part of your growth and developing resilience," she said. "Don't be afraid to fail."
Haters to the left. There's an age-old stereotype that intelligence is an unattractive quality in women. It's a stereotype that has got to go, Obama said. 
"You don't want to be with a boy who is too stupid to appreciate a smart young lady," Obama said. "There is no boy who is cute enough or interesting enough to stop you from getting your education. If I worried about who liked me and who thought I was cute at your age, I wouldn't be married to the President of the United States." 
But even beyond romantic interests, she noted, young women would do well to avoid anybody who "drags you down" — including toxic female friends. 
"You have to fill your bucket with positive energy and if people are bringing you down — whether that's your boo or your best friend — you have to learn how to push these people to the side," she advised. 
Stick with it. Ultimately, Obama acknowledged, change will not come overnight.
"Change for the positive oftentimes is incremental," Obama said. "It's person by person, it's step by step ... solving this problem will take generations. It will take the work of your children and your grandchildren. But we can never give up. We can't afford to."
Watch a clip from the event below: