Georgia Will Resume Selling Confederate Battle Flag License Plates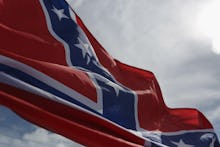 After shuttering the sale of specialty license plates bearing Confederate battle flags in June, a symbolic milestone in the ongoing battle against racism in the United States, Georgia has changed its mind. The Department of Revenue and the Sons of Confederate Veterans' Georgia chapter have agreed on a redesign of the controversial flag, which could appear on specialty plates as early as next week, the Associated Press reports.
Interest in the plates spiked following the announcement to resume sales. At least 3,500 drivers in Georgia have already applied for them, Time reports.
The white supremacy link: Georgia officials called for the removal of Confederate flag license plates shortly after 21-year-old Dylann Roof was accused of gunning down nine members of a predominantly black church in Charleston, South Carolina, in June. The shooting was investigated as a hate crime, and Roof later pleaded not guilty to the the 33 federal charges against him. Prosecutors announced Sept. 3 that they would seek the death penalty for Roof.
The connection between what happened in Charleston and white supremacy is glaring. In the wake of the tragic shooting, photos of Roof circulated showing the accused shooter holding firearms and brandishing Confederate flags. Roof also published a manifesto in which he talks about his white supremacy leanings. Roof drove a black Hyundai Elantra affixed with vanity plates depicting three Confederate flags and reading, "Confederate States of America", Gawker reports.
Controversy around the country: The Confederate flag represents a long history of racism and violence in the U.S., and the back-and-forth over the sale and depiction of the symbol is history in the making. In the wake of the Charleston shooting, the controversy surrounding the flag is dynamic, and it's happening all across the country. There was the moment South Carolina removed the Confederate flag in front of its Statehouse, and the time a man tore through traffic to rip a Confederate flag off a moving car.
State-by-state decisioning to limit the appearance of Confederate imagery has played out in the media, and government officials aren't alone in struggling with the decision. In June, Wal-Mart, the largest retailer in the United States, took a side in the fight by removing all merchandise bearing the battle flag. 
The controversy touches tech, too. In June, Apple rid its app store of any application baring a trace of the Confederate flag. Each decision sparked both praise and scorn from the public.