Bleachers Remix 'Strange Desire' With All-Female Lineup, Including Sia and Charli XCX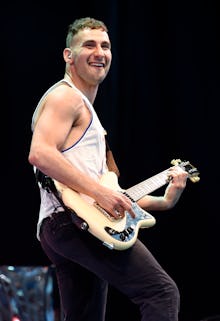 The line separating indie and pop grows thinner every day. Jack Antonoff, lead singer of Bleachers and member of Fun, has been one of the leaders in making that happen. 
In a few short years, Antonoff has written with some of the biggest pop acts in music. He contributed three songs to Taylor Swift's 1989 and one to Carly Rae Jepsen's Kiss. And he's engineered one of the biggest meldings of the genres yet: remixing Bleachers' 2014 album Strange Desire with a full lineup of female pop vocalists. 
Terrible Thrills Vol. 2, released Monday, is a veritable who's who of talented women in music. It's one of the most unexpectedly awesome expressions of girl power in music we're bound to see this year.
Some of the biggest names in the biz show up in the album's liner notes, including the songwriting powerhouse Sia, upstart Tinashe, subtly anti-pop star Charli XCX, the perennially adorable Jepsen, country crossover artist Natalie Maines of the Dixie Chicks and the Bangles' Susanna Hoffs. 
Antonoff had put together a similar collection, Terrible Thrills Vol. 1, with his previous band, Steel Train. It was something he always hoped he could do again. "I hear the songs I write in the female voice before I shift it and do it in my voice," he told Vulture. "This record, in a weird way, is how it sounds in my head."
The songs offer intriguing opportunities for genre-bending, along with gender-bending, such as his Tinashe-assisted "I Wanna Get Better," which mixes that highly personal track into R&B-tinged synthpop.
Notably absent is perhaps one of his closest collaborators and most high-powered musical friends: Swift. But that was a deliberate choice. "Taylor and I have done a lot of great work together, and it feels well represented," Antonoff said. "I wanted this to be something I'd never done before."
Listen to the album in on YouTube and compare it with the original album on Spotify here.
h/t Vulture