MacArthur Genius Grants 2015: Full List of This Year's Winners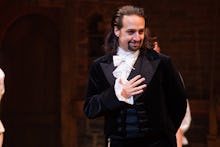 The MacArthur Foundation, an organization that supports nonprofits across the United States, announced Tuesday the 24 recipients of its prestigious "Genius Grant." Among those receiving the award were engineers, journalists, artists and others whose work stands out in their respective fields. 
Every year, the foundation selects a group of creative and promising individuals to receive a $625,000 grant over the course of five years with no strings attached. The award is given to those who have already demonstrated potential in their field but would otherwise struggle to pursue their goals or particular passion projects. 
It's not a "started from the bottom now we here" situation, though. Many of the recipients are already somewhat well-known and are making money for their work, according to the foundation. Lin-Manuel Miranda, the creator and star of the hit Broadway musical Hamilton, is being awarded. Brooklyn New York-based artist Nicole Eisenman, who sells her paintings that represent contemporary social issues for $75,000 each, is also among the winners. 
Other, lesser-known Geniuses have the potential to make groundbreaking impacts on society. Columbia University engineering professor Kartik Chandran wants to transform waste water into a resource. Harvard sociology professor Matthew Desmond wants to expose how the housing policy reinforces poverty and inequality.
Ta-Nehisi Coates, journalist for The Atlantic, will also receive a grant for his analyzation of racism through the lens of personal experience and history. 
Here's the full list of the 24 MacArthur "Genius Grant" 2015 recipients.