Hillary Clinton Was "Terrified" of Losing Her Identity Before Marrying Bill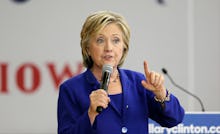 Leave it to Lena Dunham to bring out the real AF side of Hillary Clinton.
In a one-on-one interview with the political powerhouse, which was published via email Tuesday in Dunham's Lenny newsletter, Clinton dished on everything from her thoughts on student debt to feminism ("I'm a feminist, and I say it whenever I'm asked") to her reluctant status as a fashion icon. (Yes, she talked about that infamous 1993 off-the-shoulder Donna Karan dress.)
But one of the most interesting tidbits came when Dunham asked Clinton if she'd had any reservations about marrying Bill Clinton back in 1975. Given that the former first lady and secretary of state was a smart woman with plenty of ambition of her own, Dunham wondered if she ever feared her personal and professional growth would take a backseat to her husband's political aspirations.
As it turns out: Yep.
"I was terrified about losing my identity and getting lost in the wake of Bill's force-of-nature personality," Clinton said. "I actually turned him down twice when he asked me to marry him. That was a large part of the ambivalence and the worry that I wouldn't necessarily know who I was or what I could do if I got married to someone who was going to chart a path that he was incredibly clear about."
This is a universal concern: When she married, Hillary Clinton was in her 20s — and like many of us at that age, she didn't have her whole life figured out. "My ideas were much more inchoate [than my husband's]. I wasn't sure how to best harness my energies," she told Dunham. "So I was searching." 
Part of Clinton's concern about losing her sense of identity likely stemmed from the fact that she came of age during the second wave of feminism, when women were encouraged to join the work force and seek career fulfillment over getting married and having children. Taking your husband's name after marriage, as Clinton eventually (and controversially) did while her husband was running for governor of Arkansas, was seen as a marker of identity loss — and to a degree, it still is today. 
Research suggests that the fear of depersonalization in a relationship is just as relevant today as it was when the Clintons got married. A study earlier this year tracked the cohabitation arrangements of 82 couples in the U.K. and concluded that moving in with an S.O. was often "associated with a process of depersonalization, which posed a challenge to private identity." But the same study also found there are simple ways to avoid the trap, such as maintaining your outside friendships and making time to continue to pursue your personal interests and goals.
She's not alone: Surprisingly, Clinton's fear of losing her identity in a relationship was recently echoed by none other than Justin Bieber. (Wow. That sentence just happened.) In a cover interview with Complex, the Biebs admitted it was a loss of personal identity that ultimately led to the demise of his relationship with pop starlet Selena Gomez.
"Your full identity can't be in that person," he warned readers of getting too attached to the baes of their lives. "My identity was in her. Her identity was in me. When stuff would happen, I would lose my freakin' mind, and she would lose her mind, and we would fight so hard because we were so invested in each other."
We know full well how Jelena's tragic love story ended. But 40 years and a string of extremely public marital struggles later, the Clintons' marriage, while under constant media scrutiny, is still going strong. As for the question of whether Hillary lost her identity as a result of tying the knot with Bill: Considering she's running for president, the answer is decidedly no. But the takeaway of her words (and, we guess, Bieber's) is still clear: Sometimes, you have to put your fears about losing yourself in a relationship aside and jump into it feet first. After all, that's what she did with Bill. 
"It was a big leap of faith, and I think most marriages are," she told Dunham. "You really do just sort of say, 'OK, I think I know what it's gonna be like, but I don't know for sure. Let's find out.'"