Chrissy Teigen and Tyra Banks Take Off Their Makeup for "Nude Show"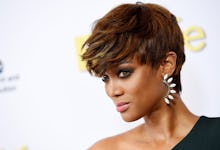 On Monday's episode of the daily lifestyle talk show FABLife, Tyra Banks, Chrissy Teigen, Lauren Makk and Leah Ashley bared all on TV. No, they didn't get naked — at least not where you might think.
The episode, titled "Nude Show," was dedicated to discussing all things naked. Though both Banks and Teigen have appeared close to nude in various modeling shoots, this episode was about makeup-free selfies. Rather than feeling the need to constantly wear makeup, the four women wanted the world to know beauty doesn't have to come from painting their faces.
"This is your FABLife nude show, and I'm about to show you what real nudity on your face looks like," Banks declared, wide-eyed, before her big reveal. Banks, Teigen and their co-stars all looked naturally radiant free of makeup. 
 Leah Ashley:
Lauren Makk:
Chrissy Teigen:
Tyra Banks:
The no-makeup stunt builds on the hype that surrounded a bare-faced selfie Banks posted to Instagram in June. 
Banks captioned the photo:
You know how people say #nofilter but you know there's a freakin' filter on their pic? Or maybe there's a smidge of retouching going on but they're lying and saying it's all raw and real? Well, this morn, I decided to give you a taste of the really real me. I wanted to smooth out my dark circles so badly!!! But I was like, "Naw, Ty. Show 'em the REAL you." So... here I am. Raw. And there YOU are...looking at me, studying this picture. Maybe you're thinking, "Whoa, she looks ROUGH." And if you are, great! You deserve to see the REAL me. The REALLY real me. #RawAndReal
Teigen is also an advocate for natural beauty. In April, the 29-year-old model earned praise for posting a photo to Instagram of stretch marks on her legs. Shortly after the post went viral, Teigen appeared on the Meredith Vieira Show, where she spoke about beauty standards and challenged what she sees as unrealistic societal expectations. "We've forgotten what normal people look like now," Teigen said on the show. "The standard is so ridiculous."
She also took aim at photo-altering apps and pledged to refrain from doctoring the photos she posts to social media. "I have those apps — the Facetune, those Photoshopping ones — and I just didn't feel like doing it anymore, and I'm never doing it again," Teigen told Vieira.
Banks and Teigen are both highly visible style icons and female role models in America, so what they say and do matters. The first step to changing unrealistic beauty standards is to challenge those impossible ideals of perfection, and both women have proved the task is well within their wheelhouses to achieve. 
Watch the divine women warriors ditch their makeup in the clip below: