Tesla Model X Live Stream: Watch Live Coverage of Model X Reveal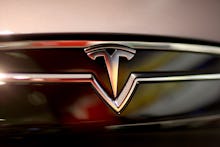 Tesla, the battery technology and car company that made electric cars cool with their Model S, is revealing their highly anticipated Model X vehicle on Tuesday, an SUV version of its famed all-electric car. 
The event will be held at Tesla's Fremont, California, factory and will be live-streamed starting at 8 p.m. PT, according to their website.
Model X: The Model X looks like an SUV version of the successful Model S but is slightly bigger and faster than its predecessor. The electric car can go from zero to 60 in 3.8 seconds, Forbes reports. However, the battery won't be any bigger than that of the Model S, meaning the Model X will have 10% less range from its battery pack, according to Tesla's website. 
The price isn't similar, though. The Model X costs $132,000, which is $5,000 more than the Model S. Musk took to Twitter earlier this month to address the price disparity.
Automobile reviewers have compared the latest Tesla model's build to that of a BMW 5 Series Gran Turismo. 
Tech enthusiasts and other Tesla fans have been on a wait-list for the Model X since 2012, Ecomento reports. As of June, the Model X had around 24,000 reservations, which is twice the amount the Model S had prior to its release, Electrik reports.
When considering the value of an electric sports car, ask yourself: What would Oprah do?