Cindy Crawford's Gorgeous Nude Photos Prove You Can Look Good at Any Age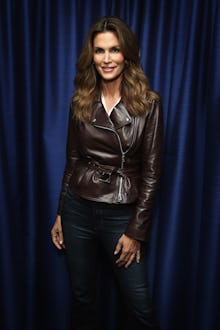 Let's just call it how we see it: Supermodel Cindy Crawford, 49, is an ageless vampire goddess. Whatever she's doing to maintain her unmistakably unattainable beauty — be it drinking straight out of the fountain of youth, or bathing in the blood of aspiring young models — it's working. 
Crawford just debuted a nearly nude magazine cover, and she looks incredible. Do you remember the first time you saw a summer sunset, or Manet's Le Dejeuner Sur l'Herbe? Yeah, it's kinda like that.
Crawford recently posed for Off Camera, a print magazine, podcast, television show and website launched by photographer and director Sam Jones. According to the publication's site, Crawford appeared in the issue to promote her latest coffee table book, Becoming, and to celebrate her 50th birthday on Feb. 22.
"To mark her 50th (!) birthday, the woman who virtually defined 'supermodel' wanted to connect iconic images from her career with the lessons behind them," according to the website. "Ones she believes are universal."
Of course, it's not surprising that Crawford looks amazing at 49: With an estimated net worth of $100 million from her modeling career and line of skincare products, she has the funds to maintain her youthful supermodel glow. 
But the photos offer irrefutable proof that women don't have to stop being sexy after they reach a certain age. Earlier this month, Naomi Campbell also pushed back on the idea that middle-aged women aren't fuckable with the debut of her own coffee table book, which featured a controversial (yet stunning) image of the 45-year-old topless.
Meanwhile, we just want to know what secret potion Crawford and Campbell are taking so we can have some. Paul Rudd and John Stamos, we'll take some of yours too.