Blackphone 2: Security Features, Price and How to Buy Latest Android Smartphone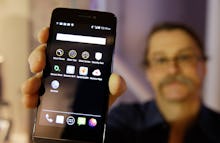 Privacy features might sound less exciting than the iPhone 6s' 4K video quality and 12-megapixel camera, but in the era of sophisticated hackers, they're definitely worth mentioning. That's the idea behind the Blackphone 2, an updated version of the original smartphone built for privacy from Geneva-based encrypted communications company Silent Circle.
Silent Circle shared the news of its Blackphone release on Twitter Monday:
At a steep cost of $799, the Blackphone 2 boasts a faster processor, more RAM and a larger screen. The company released its first smartphone built for privacy, the original Blackphone, in 2014. 
What really sets the Android-powered smartphone apart from others in the bunch is its emphasis on security features. The Silent OS software allows users to tell applications when to stop collecting data from their phones, rather than submitting to an all-or-nothing privacy policy when accepting the app's terms and conditions, according to Silent Circle's website.
The Blackphone 2 is available to order from Silent Circle's website as of Tuesday. Here are some of the smartphone's security features, according to the site:
Spaces: This feature is like having four phones in one. Its purpose is to allow the user to efficiently separate their work and personal lives on one device. Users can create up to four separate spaces, which don't share data with one another.
Security Center: The Security Center is the hub where the user manages all security settings. From here, they can manage in which space apps will appear on their phones, whether "work" or "personal" spaces. This is also where users can customize apps' permissions to access their data.
Preloaded apps: The smartphone comes loaded with both Silent Circle and third-party apps for encrypted communication.
Vulnerability management: The Blackphone 2's Silent OS software promises to fix any security issue within 72 hours.