Cathriona White, Jim Carrey's Ex-Girlfriend, Found Dead in Apparent Death by Suicide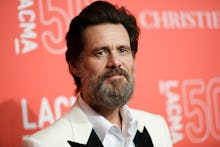 Cathriona White, Jim Carrey's former girlfriend, has reportedly killed herself, TMZ reports. 
The Los Angeles Police Department found White's body in a residence in Los Angeles after they responded to a call Monday night, authorities told TMZ. 
On Tuesday, Carry released a statement on White's death to FOX411:
I am shocked and deeply saddened by the passing of my sweet Cathriona. She was a truly kind and delicate Irish flower, too sensitive for this soil, to whom loving and being loved was all that sparkled. My heart goes out to her family and friends and to everyone who loved and cared about her. We have all been hit with a lightning bolt.
White, 28, reportedly left a suicide note addressed to Carrey, mentioning their recent breakup on Thursday, according to TMZ's sources. On that same day, White tweeted she was "signing off Twitter."
Law enforcement told TMZ they believed the cause of death to be a drug overdose. 
Five days before White's death, she posted a photo to Instagram of a bouquet of white flowers drenched in sunlight with an excerpt from Irish poet William B. Yeats' play A Heart's Desire.
White worked as a make-up artist in Ireland before moving to Hollywood to work behind the scenes in 2009, the Belfast Telegraph reports. She met Carrey on a film set in 2012 and the two recently re-kindled their romance.
Need help? In the U.S., call 1-800-273-8255 for the National Suicide Prevention Lifeline.