Scientists Are Using Stem Cells to Develop What Could Be a Cure for Blindness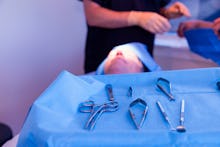 A new surgical procedure could use embryonic stem cells to cure blindness.
According to a BBC report, scientists have surgically implanted a "patch" of treatment cells at the back of the eye, which will slowly replace the diseased retinal cells caused by a "wet" form of age-related macular degeneration. The degeneration is usually caused by blood vessels leaking into the center of the retina.
The operation occurred a month ago, lead by Professor Peter Coffey from the University College London Institute of Ophthalmology. Coffey is also co-leader of the London Project to Cure Blindness, organized in 2007 to reverse the vision loss associated with AMD.  
According to a statement from the London Project, the so-far-successful trial is meant to confirm the safety of using stem cells from the eye to treat "sudden severe vision loss."
Six years ago, the London Project posted a video of what, theoretically, the process would look like. You can see the patch of Retinal Pigment Epithelium cells delivered to the macular portion of the retina.
"This is truly a regenerative project," said Professor Lyndon Da Cruz from Moorfields Eye Hospital, who performed the surgery, according to the BBC. "In the past it's been impossible to replace lost neural cells. ... If we can deliver the very layer of cells that is missing and give them their function back, this would be of enormous benefit to people with the sight-threatening condition."
Though there have been complications with using stem cells on eyes in the past, so far the trial is looking good — however the doctors won't have results of recovery until early December, according to Reuters. Still, by the end of the year, scientists may have a groundbreaking new way to fix a type of vision loss responsible for almost 50% of blindness or vision loss.
"If the AMD trials are successful, then by using embryonic stem cells as the starting material, the therapy can then be affordably manufactured at large scale," said Chris Mason, a professor of regenerative medicine at UCL, according to Reuters.