Edward Snowden Just Joined Twitter and Dissed the NSA in the Best Way Possible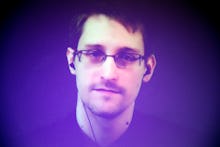 Edward Snowden, the former CIA employee famous for leaking highly classified National Security Agency intel in 2013, opened a verified Twitter account Tuesday. The high-profile expatriate, as of Tuesday afternoon, already has nearly 350,000 Twitter followers, a number that will only continue to grow. 
Ironically, the first and only account Snowden followed is none other than @NSAGov, the official account for the NSA and Central Security Service. In his first tweet, Snowden asked, "Can you hear me now?"
"I used to work for the government," Snowden wrote in his Twitter bio. "Now I work for the public. Director at @FreedomofPress." Freedom of the Press Foundation is a government watchdog organization working to defend public interest journalism, according to its mission statement. Snowden received a three-year residence permit from the Russian government in August 2014 and has been living in Moscow ever since, the Guardian reports. 
Here's the former CIA employee's first tweets in which Snowden thanked some of his followers for their support and made a reference to the recent discovery of water on Mars: