2015 Fall Movie Preview: Which Movies Are Heading for Oscar Gold?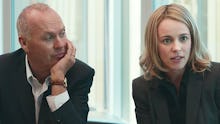 The summer movie season is dead and gone, and Chris Pratt is standing tall atop the heap. Jurassic World won the summer box office, with Avengers: Age of Ultron not close behind. 
What do those movies have in common, besides costing and making a ton of money? Neither will be nominated for the Oscar for best picture. That's fine! Their job is to entertain, not to earn awards come January. Summer movies are their own pleasures.
Now, however, as the autumn chill falls and viewers dig the sweaters out of their closets, Oscar season is about to hit full swing. What will the Academy of Motion Picture Arts and Sciences love? What will audiences adore? Which films will hit that beautiful intersection and become a critical and commercial favorite? We've got the breakdown of which movies you'll want to see in order to sound like an authority come awards time.
Spotlight
Release date: Nov. 6
In 2002, a special team from the Boston Globe took on what seemed like an impossible target: the Catholic church. Through their reporting, the journalists uncovered a systematic pattern of child abuses and changed the church's reputation forever. Spotlight follows those reporters through their own journey. Starring Mark Ruffalo, Rachel McAdams, Michael Keaton and more, this film earned big kudos for its debut at the Toronto Film Festival.
Oscar chances: Think big here. Best picture, best director, best screenplay and several acting nominations are all possible. If you must place a bet on any particular actors, go Ruffalo or McAdams.
Room
Release date: Oct. 16
This heart-wrenching work about a mother, kidnapped and raising a child in the worst of circumstances, is exactly what the fall movie season is about. The adaptation from Emma Donaghue's 2010 novel is harrowing, haunting and at times incredibly difficult to watch. Yet its ambition is what has earned it such glowing reviews. Few will leave this film's theater without tears flowing.
Oscar chances: This is the kind of movie that might be too female-centric and small for the Oscars despite critical enthusiasm. Still, this feels like star Brie Larson's time for her first nomination (after also shining in Short Term 12). Young star Jacob Tremblay could earn a nod if he pushes enough voters' emotional buttons.
Beasts of No Nation
Release date: Oct. 16 both in theaters and on Netflix
Director Cary Fukunaga's film about war in West Africa occupies an interesting place on this list: It represents Netflix's first foray into feature filmmaking. Starring Idris Elba, the story follows a young soldier forced into the conflict. Critical response so far has been resoundingly positive; this could be what changes Netflix's movie game for forever.
Oscar chances: Voters may turn up their noses at a Netflix movie, but Elba's career is hitting a fever pitch. He's due for an Oscar nomination soon, while popular former True Detective director Fukunaga may earn kudos even if the movie itself fails to earn a best picture nod.
Suffragette
Release date: Oct. 23
Chalk this up in the Selma column for period pieces that also feel intrinsically modern. Suffragette follows the women's suffrage movement in England, with Carey Mulligan in a starring performance and veterans Helena Bonham Carter and Meryl Streep as supporting players. A trailer is just a trailer, but this film's is pretty exquisite. "We break windows, we burn things, because war's the only language men listen to," Mulligan's character says.
Oscar chances: Even though it's a female-centric story, this is the kind of movie that will hit the Academy's sweet spot. Mulligan and Streep feel like good bets if Suffragette makes any sort of noise at all.
The Danish Girl
Release date: Nov. 27
Defending best actor champion Eddie Redmayne is back with The Danish Girl, a film in which he plays a transgender character. This is tough: Will Tom Hooper's good intentions satisfy critics who wish the part had been played by an actual trans actor? Or will co-star Alicia Vikander's narrative as the cis, straight woman take precedence?
Oscar chances: Director Hooper won an Oscar for The King's Speech, then failed to earn a nomination for Les Miserables. So while his chances are dicey, the film, Redmayne and Vikander are almost certain bets.
The Revenant
Release date: Dec. 25
Does the idea of Leonardo DiCaprio playing a frontier explorer who survives a bear attack sound fun? Good, then go see The Revenant. Otherwise, watch at least a trailer to determine feelings. Director Alejandro González Iñárritu's follow-up to best picture-winning Birdman looks impressive, but also to a very specific taste. Luckily for everyone involved, that taste probably mirrors the Academy's exactly.
Oscar chances: Betting against the defending best director winner is a losing game. The bigger question: Could DiCaprio finally win an acting Oscar after four previous nominations?
The Hateful Eight
Release date: Dec. 25
Always-colorful Quentin Tarantino has made yet another vivid picture of life in a very specific place. This time, it's post-war Wyoming; the story follows what happens at the cross-section of bounty hunters, criminals and more. It'll be a bloody film. Did you expect anything else from Tarantino?
Oscar chances: Despite the divisive (if ultimately well-liked) Django Unchained, Tarantino's late career has been about racking up a whole slew of Oscar nominations. Inglourious Basterds seemingly changed something for the Academy where Tarantino is now just as Oscar-friendly as a director like Martin Scorsese. In other words: Expect big things for The Hateful Eight.
Steve Jobs
Release date: Oct. 9
Though surely Ashton Kutcher's take on Steve Jobs was enjoyed by some (though not many), Aaron Sorkin's film starring Michael Fassbender feels definitive. The film takes the Apple creator through three important product launches. The story balances his professional life with his personal, with Kate Winslet co-starring.
Oscar chances: Though Steve Jobs will do well, it's worth noting that the last two movies Sorkin wrote did good-not-great with the Academy. The Social Network lost a competitive best picture race to The King's Speech, while Moneyball failed to win any of the six Oscars it was nominated for. Steve Jobs will have to appeal to voters emotionally to get in.
Joy
Release date: Dec. 25
David O. Russell has proven himself to be one of Oscar's favorite directors in the past half-decade, awarding best picture nominations to The Fighter, Silver Linings Playbook and American Hustle. Will Joy, starring muse and previous Oscar winner Jennifer Lawrence, finally seal the deal with a win?
Oscar chances: It's Russell, whose last three films earned best picture and best director nominations, and Lawrence, who has one Oscar and two additional nominations at age 25. Joy is in.
The Hunger Games: Mockingjay — Part 2
Release date: Nov. 20
It's the Mockingjay's last flight. After just under five years and four films, the franchise that inspired fans to put the odds in their own favor comes to an end. Led by star Lawrence, Mockingjay — Part 2 will tie up the franchise, if not end it. There's some ambiguity as to whether the series will end as its star departs. This film also has the sad status of being Philip Seymour Hoffman's final movie.
Oscar chances: Were Lawrence not a sure thing nominee for Joy, one could make a case that she could pick up a franchise-capping nomination. As it stands, this one's just for the fans.
Carol
Release date: Nov. 20
No lesbian period drama has ever won the Oscar for best picture before. Could director Todd Haynes' Carol change that? The film stars Cate Blanchett and Rooney Mara as lovers in 1950s New York. The latter plays a photographer; the former, a married woman. Early word: "exquisitely drawn," "intoxicating" and "a knockout."
Oscar chances: Blanchett's Oscar-winning work in Blue Jasmine set her on a whole second-wave career kick. It would surprise if she and Mara, herself a previous nominee for The Girl With the Dragon Tattoo, didn't pick up a twin set of nods.
Star Wars: The Force Awakens
Release date: Dec. 18
It's Star Wars! If you don't know what you're in for at this point, congratulations on finally joining the Internet. May we offer you a trailer for your education?
Oscar chances: Nothing in picture or the performance categories unless it actually surpasses the quality of the original (the only film in the series to be nominated for best picture). It should clean up in the technical categories.