13 Fitness Hacks Every 20-Something Needs to Get the Most Out of Their Workouts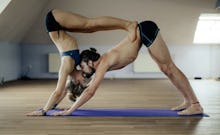 In 2015, few things are more important than time. Americans are clocking longer hours, sleeping less and commuting farther than ever before to meet the demands of an ever-more competitive workforce.
If the next generation is going to take on these difficult challenges, they'll need to be properly equipped, both mentally and physically. Finding the time to fit a brief workout into a daily routine not only makes all the difference in relieving stress but can dramatically improve quality of life as well. 
Taking time for a quick workout doesn't have to be the chore many people think it is. Finding a few minutes each day to get the body moving, with the help of this list of exercise hacks, can ensure a more sound mind and body.
Hack 1: Stretch every day, as often as possible. 
Stretching is one of the most crucial aspects not only to working out and getting physically fit, but also to improving overall health and flexibility. According to Active, stretching every day keeps joints flexible while also preventing repetitive stress or strain syndrome caused by overusing a part of the body without proper care.
There are several stretches that can be done in just 15 minutes that can aid in maximizing the benefits of a workout while reducing stress and pain in the body.
Hack 2: Get your cardio in after your workout, not before it.
There are plenty of ways to warm up for a tough workout, but one of them shouldn't include heart-pumping cardio. While many gym-goers tend to get their 15 to 20 minutes of running or stair masters in before lifting weights or focusing on select muscles to exercise, the trick is actually to do cardio after the heavy lifting.
As BodyBuilding.com explains, "Doing cardio right after weights is way better than doing it before weights. The reason being is that weight lifting doesn't deplete your glycogen stores as bad as it does in cardio workouts depending on how intense you go." Glycogen is the primary form of energy in the body. Anyone who isn't as focused on building mass as weight lifters should still save their cardio until the end of their workout, to save muscle energy for the most intensive portion of their workouts.
Hack 3: Dance like no one is watching.
Dancing is proven to be one of the best full-body exercises out there, as it's a low-impact sport that utilizes several different muscles in the human body. Studies show letting loose on the dance floor improves flexibility, reduces stress, is good for your heart and can be a solid cardio workout. 
The best part about dancing is that it's a sport that can require a partner. A dance class can double as the perfect workout and first date for millennials still interested in developing connections IRL. 
Hack 4: Game-ify your workout for the most meta-exercise ever.
Let's admit it: As beautiful as it sounds to disconnect from technology and enjoy a high-energy workout, that simply can't be the case for many young workers. 
For anyone looking to add tech to their workout, there are a number of options, from wearable fitness technology like the Apple Watch or Android Wear to dozens of popular apps that monitor and track users' exercises. By combining both fitness and technology, millennials in the digital age can track their exercises and share their successes and improvements with friends.
Hack 5: Listen to music or your favorite podcast for a more intense workout.
It's no coincidence that a workout tends to be more exhilarating when some upbeat jams are playing. A growing pool of research indicates listening to music while exercising can maximize the benefits of a workout by increasing motivation and productivity, all while reducing stress, according to Scientific American.
Hack 6: Join a group, either at the gym or in the community.
Working out with a group or in organized sports not only creates more of an incentive to create a routine with a workout, but can also lead to improved results, according to Breaking Muscle. Classes may be the best way for someone to learn new exercises in fun, high-energy environments. Similarly, working out with a buddy or in a group tends to make a workout session more effective and last longer.
Hack 7: Make the workout a routine in order for it to stick.
Consistency is key, even for millennials. The benefits of exercising each day, or at least in a set schedule, are often greater than getting in one or two intense sessions over the course of a week. Most studies report serious exercisers should carve out at least 30 minutes a day, at least five days a week, in order to get in a good workout and remain in peak physical condition.
Hack 8: Exercise in the mornings for all-day energy.
After a long day of work and additional activities, most 20-somethings are wiped out by the time they make it back from their commutes. That's exactly why it makes sense to include a workout before you hit the stress and scheduling obstacles of a jam-packed work day. Exercising in the morning gives the body's metabolism the much-needed jump-start after slowing down during sleep and increases focus while on the job.
Hack 9: Take on a fitness challenge.
There are a number of trending fitness challenges circulating the web like squat challenges, 30-day ab challenges and others from top fitness gurus in the industry. 
The best part about these tips is that they are entirely free, and the motivation can be found online (however, in some cases, fitness experts will only provide a portion of their fitness challenge tips). 
Joining a challenge or following advice from a guru allows those who are new to working out not only find new, challenging exercises to try but also to become a part of online fitness communities.
Hack 10: Bring gym clothes along on the daily journey.
If getting up before 6 a.m. isn't exactly the most pleasant-sounding routine, this hack can certainly help by aiding anyone with the proper attire to fit in a workout on their own time. By carrying a small gym bag or tote, a quick gym session can be had in the middle of the day during a lunch break, after work or school or before heading home. 
Hack 11: Sleep more. Seriously
This may not seem entirely revolutionary, but fitting in those precious hours of sleep allows for a workout's benefits to fully impact the body and prevents the body from aging, both inside and out. Seven hours of sleep each night may be the magic number in aiding the body, however, as Men's Fitness notes, "Lifestyle and activity levels play a huge factor — the harder you live, the more sleep you need — so you'll have to figure out your own personal sweet spot."
Hack 12: Eat clean, live clean
Pairing a high-intensity workout with clean meals throughout the day will allow any fitness junkie to maximize their workouts and reach their body's true, full potential. While working out will certainly help get the body in shape, clean eating is crucial in living a healthy lifestyle, and it takes energy to workout. So, it's equally important to be consuming the essential nutrients and drinking a steady supply of H20 throughout the day in order to stay fit. 
Hack 13: Set goals, and reward yourself when they're met. 
The challenge of shedding weight, gaining mass or achieving the ideal weight and physical health is certainly no joke. Becoming physically fit can be a true challenge with many different obstacles, and each hurdle should be rewarded with some sort of self-praise. Make a list of goals that can be met in a step-by-step order, with matching rewards to be enjoyed when each goal is achieved (for example, buy a new, smaller pair of jeans after losing 10 pounds). Rewards create an incentive to workout and are reminders to stop and reflect on the hard work done in each step of the journey. 
Just don't let that reward be a piece of cake. That would sort of defeat the purpose.