Mac Sabbath Uses Metal to Deliver a Horrifying Message About the Dangers of Fast Food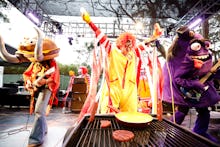 About a year ago, at a secret show in the basement of an unnamed fast food restaurant, musician and manager Mike Odd found something revolting and revelatory: Four deranged characters, dressed like zombified versions of beloved fast food mascots, were playing some of the grimiest and most alluring heavy metal he'd ever seen. He needed a piece of it.
"I found myself watching this incredible, strange mixture these characters and Black Sabbath and cheeseburgers," Odd told Mic of the fateful night he met Mac Sabbath. "It was one of the most amazing things I've ever seen. I fell in love with the whole project." 
A few weeks later, Odd became their manager, thinking it would be a fun short-lived gig. It's since grown into far more than he could have ever envisioned.
Self-proclaimed inventors of "drive thru metal," Mac Sabbath plays only Black Sabbath covers rewritten entirely with fast food imagery. "Iron Man" becomes "Frying Pan." "Paranoid" becomes "Pair-of-Buns." The sheer absurdity of the band's concept and its execution has attracted the attention of a wide array of media outlets, and it's got the band sharing stages with Kiss, Mötley Crüe and Elton John. 
Underneath the cartoonish gloss, however, the band actually has a carefully considered critique of the country's corporate food industry. Think of them as the most entertaining and nightmarish healthy eating PSA anyone's ever had to suffer through.
The band never gives interviews, so the responsibility of communicating its mission falls entirely on Odd's shoulders. Interpreting frontman Ronald Osbourne and guitarist Slayer Mac Cheeze's creative vision is no enviable task. 
"[Osbourne] has this whole thing that he traveled through time from the '70s to show you what it was supposed to be like when food was still food, and the government wasn't controlling it in a way that was poisoning the people," Odd said. "It's a very Orwellian philosophy that he seems to have, like 1984 came and went, Monsanto took control and filled us all with GMOs and everything."
He says he's never seen Osbourne out of character. They never travel together. He just shows up when he's supposed perform, talking in riddles the entire time, warning his listeners of the addictive "pink slime" that our food is fast becoming. "Everybody wants it," Osbourne sings on Mac Sabbath's song "Frying Pan." "Til they're fat and they're dead."
Fortunately, most of the show speaks for itself — though the bluntness of the execution doesn't make it any easier for one to wrap their head around. The more one learns about it, the more absurd it gets.
"The thing that I like about it the most is there's this wicked, over-the-top, scary, gnarly hard rock show with skulls and lasers and creepy clowns," Odd said. "It's scary as hell. But at the same time, it still remains kid-friendly. For the most part, he doesn't curse; there's no strippers or cocaine or anything you'd expect from a big, scary heavy metal band. He makes sure it's a family oriented show, just like Ronald should, I guess."
Odd says one of his first gigs with the band was at an elementary school. "The kids loved it," he said. "For every one of them crying, there were nine smiling." 
When asked if the Osbourne's intention was for the band to function in part as some kind of extension of Michelle Obama's Let's Move campaign, but frightening rather than coddling kids into eating healthy, he responded through laughter: "That's all part of the design."
Odd is quick to note that Osbourne never lets performances get too preachy. "He works to keep the show as fun and engaging as possible with his banter," Odd said. "He is a clown, after all. The critique is there for those who want to delve into the lyrics." 
Those lyrics are developing to include aspects of the food industry beyond the ingredients. The band's latest song, "Zipping up the Uniform" (a play on "Symptom of the Universe") serves as a rallying crying for fast food employees tired of low wages and poor working conditions.
Odd, however, has no idea where these lyrical evolutions are going to lead, or whether or not Osbourne is ever going to put his revelations on a record after Mac Sabbath's nearly two years together as a band.
"[Osbourne] has got some kind of plan of where it's going," Odd said. "I'm not sure if there's some kind of big grand end scheme that I don't know about, and I'm just going to be dumped back on my doorstep again and having to restart my life. He says some weird cryptic things about 'the end' sometimes, and I sit there like a confused kid with a Rubik's cube."