The Palestinian Flag Will Be Raised at the United Nations for the First Time Ever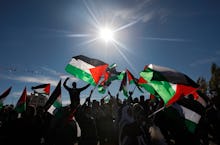 For the first time in history, the Palestinian flag will be raised Wednesday at the United Nations after a historic and symbolic vote Sept. 10, which saw an overwhelming majority of countries in favor of the decision. 
"I am certain that the day our flag rises among the flags of the community of nations will also be a most emotional and proud day," Palestinian President Mahmoud Abbas wrote in a Huffington Post op-ed. "Hope is the power that helps my people endure and overcome the horrors we have too often faced." 
The General Assembly adopted the resolution to fly the Palestinian and Vatican flags after 119 countries voted in support of the proposal — 45 countries abstained and eight countries voted against it, including the United States and Israel. 
"[This] is not an alternative to negotiations and will not bring the parties closer to peace," Samantha Power, U.S. ambassador to the U.N., said, according to the New York Times.
"Once again, the Palestinians prefer to score easy and meaningless points at the U.N., simply because they can. They don't hesitate to manipulate the U.N. system, this time by exploiting the Holy See [Vatican]," Ron Prosor, Israel's permanent representative to the U.N., wrote in an open letter to the U.N. secretary general and the president of the General Assembly.
"Allowing the undermining of the credibility of these symbols today, symbolizes the surrender of this institution to an intimidating and cynical political agenda tomorrow." 
Prosor also described the vote as a "blatant attempt to hijack the U.N." He asserted Palestinian statehood could only be attained through negotiating directly with Israel and not through independent bodies such as the U.N. 
Abbas rejected the notion Israel is receptive to the idea of Palestinian independence. "While the Israeli government pays lip service to the two-state solution internationally, domestically it employs policies aimed at destroying what's left of Palestine," Abbas wrote in his op-ed. "Israel demolishes our homes, swallows up our land and works at breaking the spirit and will of our people."
In 2011, the Palestinians lost a bid to be recognized as a full member state by the U.N. One year later, the U.N. General Assembly voted in favor of promoting Palestine's status to that of a non-member observer state, a title shared with the Vatican.
"The General Assembly's vote [to raise the flag] confirmed again that we, the people of Palestine, are not alone in our quest for freedom, fulfillment of our rights and an end to decades of Israeli occupation and oppression," Abbas wrote.