Tesla Model X: Photos, Video and Special Features From Elon Musk's Tesla Motors Reveal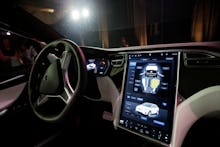 Tesla CEO Elon Musk unveiled the company's Model X electric car during a viewing event Tuesday at the Tesla factory in Fremont, California. With improved performance over its predecessors and with a battery that will last 250 miles in a single charge, the vehicle is an official competitor to some of the most high-end luxury vehicles on the market.
Tesla Motors live-streamed the X's big reveal, showing off its falcon doors, which are hinged and sensor-equipped, as well as the interior design. "The mission of Tesla is to accelerate the advent of sustainable transport," Musk said to the audience of thousands in the packed auto factory, Wired reported. "It's important to know that any kind of car can go electric."
Here's a first look at the new Model X, including the features in store: 
Falcon doors: The car's "falcon doors" trump similar designs used in other brands' models where the doors open from the floor to the ground. The back doors of the Model X open similar to the Mercedes-Benz AMG SLS series but use advanced sensor technology to ensure there's enough space surrounding the vehicle before opening. The rear doors are also hinged, allowing passengers to exit even when in tight spaces. 
Speed: The Model X will be one of the fastest electric cars on the market when it's released to the public sometime in the second half of 2016, according to the company's website. The car boasts an incredible 0 to 60 mph pickup in only 3.2 seconds when employing the Ludicrous Speed Upgrade (the car hits 60 mph in 3.8 seconds normally), making the electric vehicle 0.1 seconds faster than a Ferrari Spider, Lamborghini Gallardo and even the MP4-12C series McLaren, according to Gizmodo. The vehicle reaches a maximum speed of 155 mph.
The Verge's Chris Ziegler test drove the Model X on Tuesday and reviewed the high-performance SUV in ludicrous mode. "It has that same glue-you-to-the-back-of-your-seat feeling that the model S gives you," he says. Watch the full review below:
Energy: While the car boasts speed, high-end technology and an incredible amount of interior space, allowing for a full two rows of seats behind the driver's seat, the car is also extremely energy efficient.
The battery in the Tesla Motor's Model X lasts a full 250 miles on a single charge, allowing it to last several days for typical drivers. What's more, the Model X sports a "quick charge" feature, which gives the car a full charge in 30 minutes at any Tesla charging station, Wired reports. 
Check out the Tesla Motors site for the Model X full specs and more.