This Dad Paused His Daughter's Wedding Ceremony to Invite Her Stepfather Down The Aisle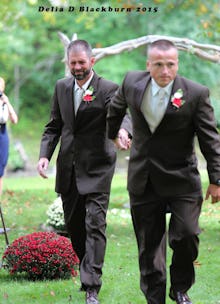 Emotions typically run high at weddings, but one tear-jerking ceremony last weekend took the cake. At a wedding in Lorain County, Ohio, Todd Bachman, father of bride Brittany Peck, paused midway through the ceremony to invite Peck's stepfather, Todd Cendrosky, to accompany him down the aisle. 
As an homage to blended families everywhere, the simple gesture went viral after wedding photographer Delia Blackburn posted shots of the moving moment to Facebook. By Wednesday morning, Blackburn's post had racked up more than a million likes. 
Speaking to Cleveland station WKYC, Bachman admitted that maintaining a good relationship with his daughter's stepfamily "hasn't always been peaches and cream... by any stretch of the imagination." Yet Bachman was ready to put those tensions aside last weekend to honor Cendrosky's commitment to his daughter.
"For me to thank him for all the years of helping raise our daughter wouldn't be enough," Bachman told WKYC. "There is no better way to thank somebody than to assist me walking her down the aisle."
The gesture came as a surprise to Cendrosky. "Every time we tried on tuxes — or did some planning — it crossed my mind that I'd be sitting in the crowd, not walking her down the aisle," he said. "He came and grabbed my hand, and said, 'You worked as hard as I have. You'll help us walk our daughter down the aisle.' I got weak in the knees and lost it. Nothing better in my life. The most impactful moment in my life."
Although Bachman came up with a novel way to make Cendrosky feel welcome at the ceremony, the question of how to best incorporate stepparents into a wedding is a fairly common one. According to a 2014 survey of 2,691 adults by Pew Research Center, more than 4 in 10 adults have at least one step relative, with 18% reporting that they have a living stepparent.
While those with step relatives place high value on the importance of family, they also tend to have "a stronger sense of obligation to their biological family members," the study found. That's why traditional weddings can raise sensitive questions about the role stepparents should play in the ceremony.
It seems that Cendrosky and Bachman came up with a novel solution to that problem. For any family touched by divorce, remarriage, separation or other nontraditional parenting, what happened at Peck's wedding is both touching and relatable.
"A lot of families can relate to our situation," Bachman said.
h/t WKYC