This Is How the President of Planned Parenthood Handled Men Interrupting Her for 5 Hours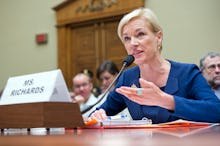 As the head of one of the most controversial organizations in the United States, Planned Parenthood president Cecile Richards is no stranger to attacks. That's why she was ready Tuesday to defend her organization's work to the members of the House Oversight Committee. In addition to questions about the organization's use of federal funds, which Republicans aim to cut, or the recent series of sting videos, Richards was constantly interrupted, often with insulting, irrelevant and even false claims about Planned Parenthood's work. 
Committee chairman Jason Chaffetz (R-Utah) cut off Richards multiple times, repeatedly telling her to "hold on" rather than actually answering a query about a $200,000 payment to an advocacy group two years ago, the Huffington Post reported. Chaffetz also questioned Richards about a graph demonstrating a decrease in money spent on breast exams and an increase on abortions, which he claimed was pulled from a Planned Parenthood report. Richards rebutted the graph was from the anti-abortion group Americans United for Life, Jezebel reported. 
Rep. Paul Gosar (R-Ariz.) interrupted Richards several times as well, saying "this is my time" and she shouldn't "interrupt it," while Rep. Trey Gowdy (R-S.C.) claimed Richards called opponents "not reasonable" when in fact she had begun to state that her organization trusts women to "make decisions about their pregnancies," according to the Huffington Post.
Richards hardly took this treatment lightly. 
"I'm being generous, calling it a 'hearing,'" Richards told MSNBC's Rachel Maddow on Tuesday night. "I think the whole purpose of this hearing was to convince themselves that it is OK to deny women the ability to go to the health care provider of their choice because 2.7 million women and men choose Planned Parenthood, and they were trying to say they wanted to take that choice away from them."
That so many attacks weren't even focused on the issue at hand, Richards added, was disappointing in and of itself. 
"Frankly, I was a bit dismayed at how little members of the committee even knew about women's health at all," she said.
Others came to Richards' defense, including committee member Rep. Carolyn Maloney (D-N.Y.), who called the videos "outright falsehoods and lies" promoted by "radical anti-choice activists." Rallies and events were held across the country, and many more showed their support on social media, using the hashtags #StandWithPP and #PinkOut.
They rallied for a reason: In addition to providing abortion services that would be otherwise unattainable for many women, Planned Parenthood teaches 1.6 million students sex education every year, helps prevent 516,000 unintended pregnancies each year through birth control services, and provides nearly 400,000 Pap tests, about 500,000 breast exams, and nearly 4.5 million STI-related tests.
"It doesn't feel like we're trying to get to the truth here," Richards said at one point during the hearing — and a simple comparison of the facts of Planned Parenthood's services to the aggressive questioning that took place at the hearing only seems to bolster her observation: