'Harry Potter' Fans Can Now Have Christmas Dinner at Hogwarts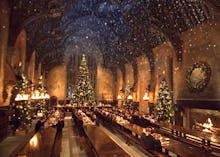 This is not a drill. This is not an illusion. Warner Bros., the film production giant that turned J.K Rowling's cult classic books about a boy wizard into blockbuster films, is giving Harry Potter fanatics the opportunity to feel like a wizard at Hogwarts and a kid on Christmas at the same time.
For the first time, on Dec. 3, the studio has invited Harry Potter loyalists to dine at the original set of the Great Hall of Hogwarts in London, the setting that served as the backdrop for many important scenes in the books, including where Potter was sorted into the the Gryffindor House.
The experience will be complete with original props from Harry Potter and the Sorcerer's Stone, the first book of the series in which Potter finds out he's a wizard and is whisked away to the Hogwarts School of Witchcraft and Wizardry. The two-course Christmas dinner will include Hogwarts Great Hall favorites such as flaming Christmas puddings and hams studded with cherries, something every Harry Potter fan has drooled over at least once.
Guests will also have the chance to stroll the set of the famous Diagon Alley, where wizard students purchase their wands and other school supplies, eat dessert on Platform 9 3/4 and cheer a cup of Butterbeer in the café. The evening will conclude with music and dancing.
If that isn't enough to freak out over, each guest will receive their very own wand. Guests shouldn't fret over whether it will be genuine phoenix feather like Potter's — remember, the wand chooses the wizard. 
For those who don't celebrate Christmas, don't worry. Rowling confirmed all religions are represented at Hogwarts. Except Wiccans, of course. 
The experience costs a steep 230 British pounds, or just under $260. Unfortunately, tickets are sold out this year.
There's no word yet on whether Warner Bros. will make this an annual event. One can only hope, and maybe work some wizard magic to make it happen.