This Moisturizer Machine Is Like a Keurig for Your Face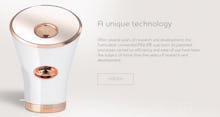 Now this is what we really need to be brewing in the morning.
The latest beauty innovation is Romy Paris, a brewing-like machine for custom skincare products. Using capsules containing specific active ingredients, users of the Romy Paris gadget can create their own serum or face cream.
The foot-tall gadget works similarly to a Keurig or Nespresso coffee machine, as Women's Wear Daily noted: feed up to three capsules to the machine, where they'll combine with either a base of face cream or serum and within seven to nine seconds, a dollop of product will pop out.
"We respond to a need of daily health for our skin," Gérard Redziniak, a scientific consultant who worked on the product, told Women's Wear Daily. 
That's why the capsules are aimed at specific, relatable needs. The "Evolutive" collection of capsules, intended to combine with the serum, targets distinct problems, like stress or lack of sleep. The "Fondamentale" collection of capsules, which combine with the lotion, addresses more general skincare needs, like skin brightening and anti-aging.
Input your own skincare needs into the accompanying Romy Paris app, and it will help guide you to the capsule combinations that will work best for your skin.
The Figure, as the gadget is called, is much more streamlined than your typical Keurig machine (in fact, it would perfectly match your new rose gold iPhone). The trademarked product comes with three months' worth of capsules, lotion and serum, and will run about $547 to start, according to Women's Wear Daily. (Pre-sales are open now and ship around Christmas, for the luxe beauty lovers in your life.)
But that might be worth it if we can get the exact skin products we want. 
Of course, for years people have been cooking up their own skincare concoctions, a practice that's taken off in the age of YouTube-guided, Pinterest-friendly DIY beauty. 
But for those who — not unlike Keurig users — prefer a home-brewed concoction but don't want to do all the work themselves, the Romy Paris might be a luxury worth splurging on.