Here Are the Challenges Young People Face Fighting for Palestine on College Campuses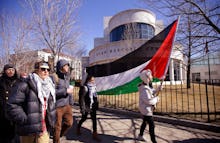 The Israel-Palestine conflict has been roiling for decades, but last summer was its most vivid manifestation for a generation of college-age students. On July 8, 2014, the Israeli government launched a military offensive into the Gaza strip following a series of rocket attacks by the Palestinian group Hamas. 
More than 2,100 Palestinians and 72 Israelis lost their lives in the next 50 days. Most of the dead were civilians. Debates around United States support of Israeli policies in the region have since reached a fever pitch, and are uniquely pronounced on college campuses in the U.S.
The dispute is led by two factions: students, groups, professors and administrators who stand with the Israeli state on one side, and those who oppose its treatment of Palestinians on the other. But according to a new report from Palestine Legal, a nonprofit that gives legal support to people advocating for Palestine in the U.S., and the Center for Constitutional Rights, titled The Palestine Exception to Free Speech, these conversations persistently get derailed amid accusations of anti-Semitism.
The result, according to numerous people Mic interviewed this week, is a chilling effect on free speech.
"Students immediately began messaging me via Facebook, asking me to step down, calling Israel 'the only civilized country in the Middle East,' et cetera." — Megan Marzec
Megan Marzec was president of the student senate at Ohio University last September when demands for her resignation started pouring in. Her story was widely documented: When university President Roderick McDavis called on Marzec to participate in the ice bucket challenge (the viral video campaign aimed at raising funds for amyotrophic lateral sclerosis, or ALS, research) she chose to make a political statement instead.
A 51-second video shows the then-21-year-old dumping fake blood over her head, urging her university to divest from Israeli-tied institutions and businesses and to oppose the "genocide in Gaza and the occupation of Palestine by the Israeli state."
The backlash was swift and, at times, violent, Marzec told Mic in an email: "Students immediately began messaging me via Facebook, asking me to step down, calling Israel 'the only civilized country in the Middle East,' et cetera."
"My email was flooded beyond use," she said. "About 50 Zionist students came to a student government general body meeting and one-by-one got in front of me and spouted horrific racism. ... A petition for my resignation was being heavily circulated."
Marzec is not alone. Though hers is an extreme case — she received multiple rape and death threats, including one student who approached her in a restaurant and told her, "I would gladly shoot you in the face and go to jail defending Israel." — backlash against pro-Palestine activism remains a fixture on many college campuses today.
Much of this pressure comes not from fellow students or university administrators — though admins have also liberally condemned pro-Palestine campus activism — but from outside actors and pro-Israel foundations and organizations, including the Zionist Organization of America, the David Project, the David Horowitz Freedom Center and Scholars for Peace in the Middle East, the report says.
The numbers are striking. Palestine Legal has responded to 292 instances of punishment, censorship and other forms of pushback against pro-Palestine advocacy since the start of 2014, in addition to 101 requests for legal support in anticipation of other instances. Eighty-nine percent of these incidents targeted "students and scholars," according to the report.
Some who have been targeted by this backlash say public opinion is shifting in their favor, but it remains clear that the resistance Palestine advocates face is unique in many ways. Those who spoke with Mic said they faced threats of legal action, administrative investigations, firings and false accusations of terrorism and, most commonly, anti-Semitism.
"Some of us are on the blacklist put together by the Canary Mission," Omar Zahzah, a graduate student at University of California, Los Angeles, and former president of the school's Students for Justice in Palestine chapter, told Mic. The Canary Mission is a pro-Israel nonprofit database that says its purpose is to document people who "promote hatred of the USA, Israel and the Jewish people."
"It's troubling that this kind of advocacy work might result in consequences for, say, our employment prospects going forward," Zahzah added.
"Even after all the administrative procedures were completed, they still took the poster down. They ended up changing the policy altogether so that students can no longer hang posters over the entryway." — Shezza Dallal
Others echo Zahzah's concerns. "The impact [of such pushback] is actually huge," Rebecca Pierce, a former University of California, Santa Cruz, student and SJP member, told Mic. "It's taking something really valuable from the university community. College is supposed to be a place where ideas are exchanged."
The stories that inform the report add an edifying dimension to its claims. Barnard University undergraduate Shezza Dallal told Mic that a poster which pro-Palestine students had hung over her college entryway last March — a space traditionally reserved for student-created posters, after they undergo a thorough administrative vetting process — was taken down by university officials after on-campus pro-Israel groups began to pressure them.
The poster read "Stand for Justice, Stand for Palestine," and contained a map of historic Palestine.
"Even after all the administrative procedures were completed, they still took the poster down," Dallal told Mic. "They ended up changing the policy altogether so that students can no longer hang posters over the entryway." 
Barnard did not immediately respond to Mic's request for comment.
UC Santa Cruz's Pierce added that years of her pro-Palestine activism on campus took place under the shadow of a Department of Education investigation, which looked into whether campus events where speakers had been critical of Israeli policies created a "hostile environment for Jewish students." The investigation was prompted in part by complaints from a pro-Israel UCSC professor. It began in 2011. All charges were dismissed by the DOE in 2013.
To that end, one of the major problems that Palestine advocates face at universities is the conflation of the state of Israel with Judaism as a whole.
"One of the most common challenges I've faced in this work is false accusations of anti-Semitism," Sa'ed Adel Atshan, a visiting professor of peace and conflict studies at Swarthmore College, told Mic. "These charges get used as a strategy to silence thoughtful critiques of the Israeli state and its military. Rather than actually discussing the issues at hand and critically interrogating a very powerful state — which should be subject to critique like any other state — these charges detract from our ability to engage with the issues."
"This line of thinking treats Israel as if it's a Jewish person instead of a government worthy of critique," said Tallie Ben-Daniel, an adjunct professor of American studies at the University of California, Davis, and academic counsel coordinator with Jewish Voice for Peace. "In fact, it's actually a form of anti-Semitism to say that Jews, Israel and Zionism is the same thing."
At times, the stakes go beyond accusation. The Center for Constitutional Rights is currently involved in a lawsuit filed by Steven Salaita, a professor whose offer for a position at the University of Illinois at Urbana-Champaign was revoked last year after the school was pressured to remove him by donors who disagreed with his tweets criticizing Israel's attack on Gaza. The university did not immediately respond to Mic's request for comment.
But Dima Khalidi, director of Palestine Legal, told Mic that such cut-and-dry violations of free speech are not the norm. "Litigation shouldn't be taken lightly," she said. "It's resource-intensive and time-consuming. On our end, in order to take this to the level of the courts, it has to be a blatant violation of the First Amendment."
Some legal challenges faced by Palestine advocates and the universities that host them involve investigations spurred by complaints of Title VI violations — the claim that an institution receiving public funds is engaged in discriminatory behavior. At the government level, legislators in several states, including New York, Florida and Pennsylvania, have passed non-binding resolutions condemning boycotts, divestment and sanctions against Israel, a primary tactic used by Palestine advocates.
"I actually didn't have a Jewish community until I started doing Palestine solidarity work." — Tallie Ben-Daniel
The broad effect of these stances is that they discourage political advocacy for Palestine on college campuses. On a more personal level, though, they reinforce rigid identity politics riddled with false conflations and limited means of self-definition.
"You learn very quickly that you have to build alliances and partnerships in this work," Atshan said. "One of the more effective tools for Palestinian students has been building coalitions with other vulnerable students on campus. It's heartwarming to see coalitions being built with progressive Jewish students, progressive Christian students, black students, Latino students."
Ben-Daniel told Mic that pro-Palestine work drew her closer to a surprising element of herself: her Jewishness.
"I've found a great community doing this work, and a lot of people doing this work are Jewish," she said. "As a college student at UC Santa Cruz, I did not involve myself with a Jewish community at all — precisely because I knew how different many of our opinions were on Israel-Palestine."
This changed over the course of her activism. Where she saw her views on Palestine as isolating in her university setting, her fellow Jewish advocates embraced it.
"I feel like I've heard a lot of stories of people being called self-hating Jews, etc.," she said. "Mine was more along the lines of not having that community. And a lot of Jews don't have access to a Jewish community because they can't pass the Israel-Palestine test."
As popular tides shift slowly toward favor with pro-Palestine advocates — and amid an ongoing national debate about "political correctness" on college campuses — free speech issues grow all the more pressing. Debates around Israel-Palestine remain on the frontline, with universities as some of their most heated arenas.