Academy President: Blame Hollywood for Why #OscarsSoWhite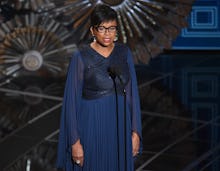 Cinephiles worried about another set of Oscar nominees: Academy of Motion Picture Arts and Sciences president Cheryl Boone Isaacs hears your concerns. She just can't do anything about them.
At a luncheon Tuesday, Isaacs answered questions about the diversity of Oscar nominee pools. Her answer was sympathetic to concerns, but practical in its insistence that the Academy can only work with what they're given — they can't nominate performers for roles that do not exist.
"The Academy has no power over Hollywood," she said, according to the Hollywood Reporter. "We have nothing to do with hiring."
Her statement is a continued response to the #OscarsSoWhite meme that went viral after last year's Oscar nominations. As the Atlantic's David Sims noted at the time, last year's pool of acting nominees was entirely white. That was the first time that happened in two decades.
Oscar voters chose to ignore Selma, last year's film about the march from Selma to Montgomery, Alabama, in all but two categories: best picture and best original song. (It won the latter category for Common and John Legend's "Glory") David Oyelowo, who played Martin Luther King Jr., didn't receive a best actor nomination.
At the time, Isaacs, the first black president of the Academy, emphasized Selma's best picture nomination while calling for further representation among the nominees. "Personally, I would love to see, and look forward to [seeing], a greater cultural diversity among all our nominees in all of our categories," she said.
Selma was one of the only films with a predominantly black cast that appeared in the Oscar conversation last year. Movies about the Hispanic, Asian, Indian and other experiences were also underrepresented. As Boone herself noted, Viola Davis was right in her recent Emmy acceptance speech: Awards cannot be won for roles that don't exist.
Isaacs didn't abdicate all responsibility, though. She noted that when those roles do exist, it's up to the Academy to look for them. "What we can do, however, is to get them to widen their normal stream of thought," she said.
With performances like Idris Elba's in Beasts of No Nation and Samuel L. Jackson's in The Hateful Eight coming up this year, the chance to broaden Hollywood's perspective on diversity may come sooner rather than later. If they continue to pass up these opportunities, the Academy won't have anyone to blame but itself.