Hurricane Joaquin 2015: Projected Path of Storm and When It's Expected to Reach the US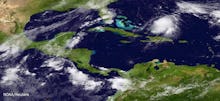 As Hurricane Joaquin continues to make its way toward the U.S. mainland, the National Hurricane Center upgraded the storm to a Category 1 hurricane Wednesday morning. Forecasters predict the now quickly intensifying Joaquin, currently located near the Bahamas, will almost certainly bring heavy rain and flooding to parts of the U.S. East Coast, according to USA Today. 
On Wednesday, the Bahamas government issued several emergency hurricane warnings to five islands within the storm's projected path, which is expected to cross through the region between Wednesday and Thursday. By 8 a.m. ET Wednesday, Joaquin's winds had topped 85 mph, according to the National Weather Service's National Hurricane Center. 
"Swells generated by Joaquin will affect portions of the Bahamas during the next few days, and will begin to affect portions of the southeastern coast of the U.S. by Thursday," the weather service said in a statement. "These swells are likely to cause life-threatening surf and rip current conditions." 
According to WRAL's Miami-based meteorologist Elizabeth Gardner, "Joaquin could be a Category 2 hurricane (with sustained winds of 85 to 90 mph) off our coast by late Friday, into the weekend and even into Monday."
The storm is expected to continue surging toward the eastern part of the U.S. now that the wind shear preventing Joaquin from becoming stronger has begun subsiding. The hurricane could reach New Jersey as early as Sunday, AccuWeather reports, before continuing north toward Canada. 
Analysts predict Hurricane Joaquin will inevitably cause flash flooding, poor visibility and heavy rain throughout North Carolina, Pennsylvania, New York and several other regions of the U.S. East Coast.  
Joaquin is now the third hurricane of the Atlantic season, Reuters reports.