The Next Speaker of the House Revealed the Real Reason the GOP Is Investigating Benghazi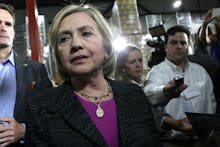 In an interview Tuesday night with Fox News, the California Republican congressman likely to become the next House speaker described the investigations into the attacks on Benghazi as a model for future GOP "strategy" because, he said, they were responsible for putting a massive dent in Hillary Clinton's poll numbers.
"Everybody thought Hillary Clinton was unbeatable, right?" Majority Leader Rep. Kevin McCarthy told host Sean Hannity. "But we put together a Benghazi special committee, a select committee. What are her numbers today? Her numbers are dropping. Why? Because she's untrustable. But no one would've known any of that had happened had we not fought and made that happen."
For the Clinton campaign, McCarthy's remarks could not have arrived at a better time, with her once-dominant standing in the polls having steadily eroded over the past several weeks. For years, the former secretary of state has condemned the multiple Republican-led probes into the attack, which killed four U.S. foreign service workers. 
Now the campaign and fellow Democrats are latching onto McCarthy's comments as proof the Benghazi investigation is a politically motivated witch hunt designed to damage Clinton's prospects for the presidency. 
The fight: In an emailed statement, Clinton press secretary Brian Fallon called the episode a "damning display of honesty," saying "Kevin McCarthy just confessed that the committee set up to look into the deaths of four brave Americans at Benghazi is a taxpayer-funded sham."
McCarthy's remark, he continued, "confirms Americans' worst suspicions about what goes on in Washington."
In the interview Tuesday, Hannity pushed McCarthy, the likely successor to Speaker John Boehner (R-Ohio), to explain how his leadership would be different from the outgoing regime.
"What you're going to see is a conservative speaker that takes a conservative Congress that puts a strategy to fight and win," McCarthy said. The Benghazi committee, he continued, was "one example" of that.
The select committee McCarthy referenced is chaired by Rep. Trey Gowdy, a South Carolina Republican. Gowdy has repeatedly denied their work was driven by partisan politics.
The background: In a March appearance on Fox News Sunday, Gowdy offered a pointed defense of his investigation.
"If you look back at the three hearings we have had so far, I have mentioned Hillary Clinton's name a whopping zero times," he said. "We were interviewing witnesses that have nothing to do with Secretary Clinton when this story broke. So to the extent that Democrats are frustrated, they should talk to Secretary Clinton, not me."
But by July 8, Gowdy confirmed Clinton had been issued a call to testify — months before his Fox News Sunday appearance. He went public in response to Clinton's claim that she had not deleted any messages "while facing subpoena," which she said during a July 7 interview with CNN centered on her use of a personal email server during her time at the State Department. 
Rep. Elijah Cummings (D-Md.), a Clinton ally, said Gowdy's actions then were "nothing but a stunt." The New York Times story that inspired Gowdy to act had been released March 2. Clinton had turned over 55,000 pages of emails and deleted what her lawyers deemed "personal" months earlier.
Clinton will have a chance to answer further questions in person when she returns to Capitol Hill to testify before Gowdy's committee Oct. 22.