Sweden Seeing Growing Success With 6-Hour Workdays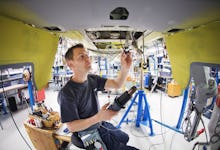 Sweden, which already stands out among nations for its generous paid maternity leave and model prison system, is giving everyone another reason to applaud.
A number of companies and local municipalities in the Scandinavian nation have increasingly been experimenting with a six-hour workday. 
Filimundus, an app development company, is one of several leading the way. "I think the eight-hour workday is not as effective as one would think," Filimundus CEO Linus Feldt told Fast Company. It's "hard to manage our private life outside of work." 
Feldt told the website his company had switched to a six-hour day last year and saw no reduction in productivity from workers. In exchange, the company asked employees to keep social media to a minimum and phased out a number of previously required meetings.
Another Swedish tech company, Brath, followed suit around three years ago and saw similar results. The company wrote on their website:
We want to hire the right people and we want them to stay with us. While our competitors write that they have an inspiring workplace, play rooms or free sodas (or whatever it is that they write) we don't even have to write ads. We're well known in the industry (and in the rest of the country), partly due to our working hours.
Work-hour shift changes have also seen benefits in Sweden beyond the world of niche tech startups, like at a retirement home in Gothenburg.  
The private sector changes build on previous examples set by the public sphere. In 2014, the Local.Se reported government workers of Gothenburg would participate in an experiment measuring efficacy of the six-hour workday. In fact, according to the Guardian, Sweden has been experimenting in one form or another with six-hour workdays since 1989. 
It's not just Sweden where people appreciate shorter hours. In Secaucus, New Jersey, Royce Leather learned the value of giving workers shorter hours long ago. Royce, whose assembly line employees once worked nine to 10 hours a day now put in six to eight. 
"I can say unequivocally that there's an overall more optimistic upbeat mood in the company culture and a strong desire to want to work for a company where there are more employee perks, where employees are treated as fellow humans and not just sources of output." William Bauer, Royce's managing director, told Mic. "Being a historically family business, we place great importance on happiness and well-being of employees." 
Since implementing the new policy in 2012, the company has never looked back. Bauer estimated that over the last three years, overall company productivity had increased 10% to 15%. Today, with average American workweek creeping up, not down, the Swedish model may be more timely than ever.