West Nile Virus in the US? 5 Things to Know About the Mosquito-Borne Infection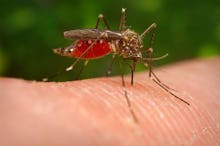 A Massachusetts man died of West Nile virus after he and another man were hospitalized for the infection, state health officials announced Tuesday. The man, a Boston-area resident in his 60s, had likely contracted the virus in Suffolk County, along with the other man, also in his 60s, who survived, according to the Associated Press.
The fatal case was Massachusetts' first in 2015. While the two cases sparked some concern about a possible West Nile outbreak in the state, deaths from the mosquito-borne illness are actually very rare in the U.S. Of the more than 41,000 U.S. cases of West Nile virus reported to the U.S. Centers for Disease Control and Prevention between 1999 and 2014, 4%, or about 1,765 cases, were fatal. 
West Nile virus is spread by infected mosquitos, which typically contract the virus from feeding on birds. The infection causes a fever, or in more serious cases, inflammation in the brain or meningitis, according to the CDC.
Here are 5 things to know about West Nile virus cases in the U.S.:
1. So far in 2015, 877 cases of the virus have been reported, according to the CDC. Cases peaked in August, however a high incidence rate of the disease continued in September, with over 60 reported cases as of Sept. 22.
Though it's common to assume mosquitos disappear the moment fall rolls in, public health veterinarian Dr. Catherine Brown told WMUR otherwise. "As we enter fall and cooler temperatures approach, it's important to note that Massachusetts still is in peak season for possible West Nile virus infection for human infections," she said. 
2. The West Nile virus is commonly found in Africa, West Asia, Europe and the Middle East. The first case of the virus reported in the U.S. was in New York City in 1999. A major U.S. outbreak occurred in 2002, which was the first time the number of cases reported was in the thousands, the CDC reports. 
3. The most cases reported in one year in the U.S. was in 2003 with 9,862 cases, the highest of any year by several thousand, according to the CDC.
4. The CDC breaks down West Nile virus cases into two categories: neuroinvasive and non-neuroinvasive. The latter is reportedly far less fatal in the U.S., according to CDC data: Nearly 9% of neuroinvasive cases have been deadly, compared to less than 1% of non-neuroinvasive cases. More non-neuroinvasive cases of the virus have been reported than neuroinvasive.
5. Most symptoms of the virus in humans are mild and flu-like, according to the CDC. Symptoms can include fever, headache, skin rash on the trunk of the body and swollen lymph glands.