8 Netflix Movies to Watch During LGBT History Month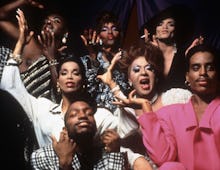 October marks LGBT History Month, a time for the community and its allies to reflect on the recent milestones in the larger queer rights movement. The month also serves to spotlight the movement's past which shaped how LGBT people live today.
While September's Stonewall might have failed in its attempt to capture the early stages of the LGBT civil rights movement, including leaving out its leading people of color, Netflix audiences have plenty more options to choose from. 
In fact, the streaming service offers an entire category specifically for gay and lesbian films, along with subgenres that include romance, drama, documentary and comedy.
Here are eight LGBT films available on Netflix that underscore the unique identities, histories and struggles of LGBT communities:
The Kids Are All Right
This 2010 comedy-drama stars Julianne Moore opposite Annette Bening, who play a lesbian couple partnered for 20 years with two children. The family begins to unravel when the mothers' children (The Hunger Games' Josh Hutcherson and Alice in Wonderland's Mia Wasikowska) begin to investigate the whereabouts of their biological father, played by Mark Ruffalo. 
The film reveals an important truth about LGBT couples: They're capable of being just as dysfunctional and loving as most traditional families with a mother and father. 
Paris Is Burning
The revolutionary documentary explores the lives of several LGBT performers, as well as iconic drag queens Willi Ninja, Pepper LaBeija and Dorian Corey, as they compete in and attend the elaborate balls that defined a subculture within the LGBT community living in New York City in the '80s and early '90s. The film, directed by Jennie Livingston, was honored with the GLAAD Media Award for outstanding documentary in 1992.
Weekend
Russell, played by Tom Cullen, changes the course of his routinely drunken night with straight friends when he meets Glen, played by Chris New, at a gay club. What really sets Weekend apart from other movies about gay men meeting at clubs is the genuine connection between the two characters as their one-night stand turns into something much deeper. 
The two spend their weekend together, quickly becoming each other's confidants and best friends as well as passionate lovers. As the relationship progresses into a potentially lifelong love affair, Glen and Russell's connection is tested when they're forced to move away from each other. 
Pariah
Pariah, written and directed by Dee Rees, centers on a Brooklyn teenager juggling the societal role she plays in order to please her strict father while also confronting her sexuality head on. As Alike, played by Adepero Oduye, explores her interest in women with a new family friend, her struggle to maintain conflicting identities begins to unfold. Pariah is a powerful film which reveals the difficulty of growing up LGBT in a conservative household. 
Any Day Now
The 2012 film, directed by Girl, Interrupted's Travis Fine, focuses on the intersectional grouping of a gay couple and a mentally handicapped teenager that occurs after the couple decides to take the abandoned boy in. 
Alan Cumming, who plays the film's Rudy Donatello, told the Advocate in March he is bisexual. "My sexuality has never been black and white; it's always been gray," he said in the interview. "I'm with a man, but I haven't closed myself off to the fact that I'm still sexually attracted to women."
Keep the Lights On
Keep the Lights On is a 2012 drama set in New York City in 1997, when a filmmaker falls in love with a lawyer who is not open about his attraction to men. The two begin a tumultuous relationship which quickly spirals into something that consumes both, as the men discover more about their own personal issues, as well as the love they have for each other. The film reflects on addiction, sex, intimacy and the complexities of sexuality. 
Yossi and Jagger
The 2002 Israeli film (Hebrew with English subtitles) centers on Yossi, a commanding officer in the Israel Defense Forces who falls in love with Jagger, a unit leader based in the same region. When the two meet and fall for each other, it happens to be before an impending attack amid conflict along the Lebanese border. Yossi and Jagger explore their love for each other while surrounded by people who are unaware of their relationship, testing the foundation of their connection. 
Getting Go
When Doc, played by Tanner Cohen, becomes entranced by a gay go-go dancer, he begins producing a documentary about New York City nightlife in order to get closer to him. After the two spend a night between the sheets, things take a turn from professional to something much more serious. Deeper feelings come into play as Doc confronts his fantasy relationship turning into a reality. Whether it's for better or worse, Netflix audiences will have to find out.