Hayden Panettiere Sums up Why We Desperately Need to Talk About Postpartum Depression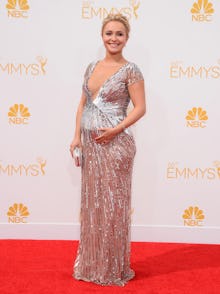 We've all heard of the physical effects of having a baby: Your breasts sag, your pelvic floor muscles weaken and your junk apparently never quite regains its pre-giant-softball-ripping-through-your-business elasticity. But we don't talk enough about one of the equally devastating emotional effects of having a kid: postpartum depression, which affects approximately 10 to 15% of mothers.
Nashville star Hayden Panettiere wants to change that. In a recent interview on Live! with Kelly and Michael, the 26-year-old actress admitted she suffered from mood swings following the December 2014 birth of her first child, Kaya.
"When [you're told] about postpartum depression you think it's 'I feel negative feelings towards my child. I want to injure or hurt my child,'" Panettiere told hosts Kelly Ripa and Michael Strahan. "I've never, ever had those feelings. Some women do. But you don't realize how broad of a spectrum you can really experience that on. It's something that needs to be talked about. Women need to know that they're not alone, and that it does heal."
Life imitating art: Panettiere shares her experience with postpartum depression with her Nashville character Juliette, who falls into a deep state of despair following the birth of her daughter, Cadence. The storyline, which was praised for shedding light on the condition, depicted many of the symptoms of postpartum depression, such as erratic mood swings, extensive crying spells and a lack of interest in one's personal life or career. 
It's fairly common for new mothers to exhibit behavioral or emotional changes following delivery. One estimate states nearly 85% of women experience some form of emotional disturbance after giving birth. 
Yet because of our societal expectations that new moms ought to be cheerful and happy after giving birth, postpartum depression is stigmatized, which can lead to feelings of shame on the part of those who experience it.
Panettiere addressed the myths and misconceptions surrounding postpartum depression on Live! with Kelly and Michael, saying there's a "lot of misunderstanding" about the condition. 
Panettiere isn't the first celebrity to talk about her experiences; Brooke Shields famously opened up about it in her book Down Came the Rain: My Journey Through Postpartum Depression.
Despite the increased awareness, the causes of postpartum depression aren't known, though hormonal changes and changes brought on by the enormous physical toll of giving birth are likely at play. (Women who have a history of mental health disorders are more at risk.) 
By opening up about her experience on national television, Panettiere is providing women who struggle with these feelings the support they need, even if from a distance.
h/t People